Who's Hot?
Hot 100 List - August '17
by Amelia Thomas, 21 August 2017
With Championship Week fresh on everyone's mind and the US Open just around the corner … junior tennis players around the country have tennis on their mind. As summer wraps up, we catch up with a few players who had particularly notable results last month in the August edition of the Hot 100. The Hot 100 lists are published each month, and the August Hot 100 lists feature the one hundred boys and girls who most improved their rankings during the month of July. You can find out more about the Hot 100 - and how the lists are calculated - by reading here.
The latest lists, published last week, are available here:
We talked to a few of these top performers…
Roundup
Alyssa Mayo (Naples, Fla.)
Three-star rising senior Alyssa Mayo had a strong start to tennis. She began hitting balls early, at the age of four, and quickly progressed to become one of the best players in her age group.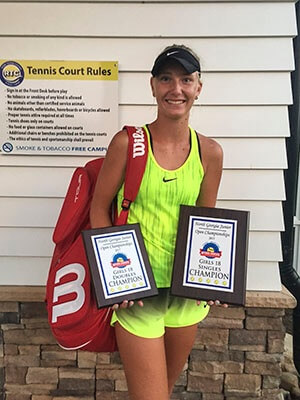 3-Star senior Alyssa Mayo
At the age of 13, she switched from playing mostly USTA to ITF Junior events. Six months later, ITF named her a world top ten player for her age division, at a height of five-foot-two. Within less than two years, however, Mayo grew to nearly six feet, and her game suffered due to the sudden growth spurt.
"After working extremely hard the past two and a half years, I feel as if [my game] is back bigger and stronger," she said.
Mayo now works with coaches Emilio Sanchez and Pavel Slozil at the Academy Sanchez Casal and strength coach Loius Nunez. Nunez has been working with Mayo on her physical strength in her legs and upper body, while Sanchez and Slozil have helped Mayo correct weaknesses in her game.
"I am mainly working on my footwork to improve my strike zone and closing at the net. There are too many baseline players who are very steady, and you have to move them out of position with heavy angle shots, or hit drop shots to move them up to the net," Mayo said. "Utilizing my height has made closing matches easier by focusing on these areas."
Since harnessing the power of her height, Mayo's game has become much more aggressive. "I would describe my game as BIG!" she said. "I hit very hard and heavy balls. When my serve is on, I can either go fast down the tee or wide. If I see an opponent who can't handle a kickserve, where the the ball is above their shoulders, I try to mix it up and get the ball out of their strike zone."
With Mayo's good performance over the last several months, she is soon to be a four-star player. Last month was no exception to Mayo's recent winning streak, and she won a title at the Georgia State Junior Open in Rome, Ga.
Mayo recently competed in the ITA Summer Circuit Championships at TCU. In doubles she and partner Celia Cervino Ruiz (East Carolina) upset two seeded teams - 3rd seeds Jessica Aney / Christina Rosca 8-6 and 6th seeds Bianca Moldovan / Anna Rogers 8-6 - before falling in the semifinals.
Mayo takes pride in these recent wins, but she considers her greatest accomplishment to be her community service. She has spent some time competing in ITF tournaments in Cuba, where she noticed that many top junior players lacked adequate equipment.
She persuaded her sponsor, Wilson, and several WTA players and tennis academies to donate equipment. She collected $7,500 worth of materials to send to Cuban players.
As a rising senior, Mayo is taking her college search very seriously. "I have visited over 20 colleges and I am looking for a university that is well-balanced between academics and athletics," she said. "Getting to know the team prior to making a decision and seeing how the coach interacts with the team is very important."