Winter Nationals Week
First-time Champions Jackson, Canete Take 14s
by James Hill, 6 January 2016
The USTA National Winter Boys and Girls 14 singles titles were captured by first-time Gold Ball winners.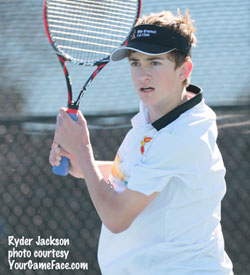 Tenth-seeded
Ryder Jackson
of Nicasio, Calif., emerged as the boys champion.
Mae Fmar Canete
, the No. 3 seed from Los Angeles, earned the top prize in the girls event. Most of the singles and doubles action - including the boys and girls 12s championships - took place December 27 to January 2 at the Reffkin Tennis Center.
Jackson defeated top-seeded Stefan Leustian of Mather, Calif., 7-5, 3-6, 6-2 in a battle which lasted over two hours. The champion took out a No. 17 seed, Siem Woldeab of La Mesa, Calif., 6-1, 6-2 in a semifinals matchup.
"I played really well from the very first match," said Jackson, who is part of the Council Tennis Training Group at the California Tennis Club in San Francisco, and is coached by Matthew Berry. "My support from my family, a few deep breaths at key moments, and belief in my ability to compete got me through. I felt like my backhand down the line really jumped a level this week. My overall steady return of serve kept me in almost every point I played."
Luestian beat third-seeded Harry Yang of Arcadia, Calif., 4-6, 6-3, 6-1 in the semifinals. Woldeab finished third with a walkover victory of Yang, who was injured.
Canete was in a familiar spot in the Sunshine Factory, a nickname of Tucson. She was a singles finalist last year in the 12s division, and lost in three sets to fourth-seeded
Gianna Pielet
. But, this year, Canete defeated fourth-seeded
Gabriella Price
of Montebello, N.Y., 6-1, 6-4 in the 14s final. Canete bested fifth-seeded
Amy Huang
of San Diego, Calif., 6-2, retired, due to injury.
"Last year, I won the first set in the final," said Canete, "but then I lost the second and third. So, my goal this year was to push myself harder. I really wanted to get a Gold Ball. Power really helped me win a lot today. I overpowered her (Price) and I made her run a lot. I played her last year (in the semifinals), and I was down 5-2 in both sets, and I came back and won."
Canete is coached by her father, Ferdinand Canete, a native of the Philippines. He coaches his two daughters, Mae Fmar and [12s champion] Christine Inah, both of whom are listed as Blue Chip recruits by TennisRecruiting.net. They conduct their training sessions at the Penmar Recreation Center in Los Angeles.