Special Feature
Learning from Lendl
by
Colette Lewis
, 11 January 2016
During his Hall of Fame career, eight-time slam champion Ivan Lendl was known for his lethal forehand, his fitness, his preparation, and his single-minded pursuit of tennis excellence. With a stern and often forbidding presence on the court, Lendl, now 55, has made a markedly different impression on the seven junior boys he is working with as a USTA coaching consultant, although his reputation did give them pause.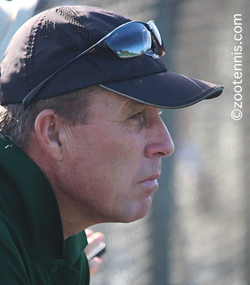 Eight-time Grand Slam champion Ivan Lendl
©
Zoo Tennis
"He's one of the greatest players of all time and I was really nervous when I first met him, but he's a really nice guy, tells a lot of jokes," said 16-year-old
Sam Riffice
, who traveled to Vero Beach, Florida with six other players to train with Lendl on his home courts. "He's very easy to talk to, an easygoing guy."
"I think at first, for everyone, it was a little intimidating, but he's a really nice guy with an amazing sense of humor," said 17-year-old Brandon Holt, who attended the 10-day camp in late October and early November, along with Riffice, Vasil Kirkov, JJ Wolf, Sebastian Korda, Gianni Ross and Patrick Kypson. "He's pretty funny, so we warmed up to him pretty easily."
Lendl had worked with boys at the USTA's Boca Raton Training Center several years ago, when he returned to the game after devoting the first stage of his retirement to his wife and five daughters and his golf game. After starting a tennis and golf academy, Lendl began playing in tennis exhibitions and most recently, had a successful run as Andy Murray's coach, helping the Scot to his first slam title at the 2012 US Open, a gold medal at the London Olympics, and the 2013 Wimbledon championship.
"On the tour, you're looking short term, here you're looking long term," said Lendl, who had just watched 16-year-old Kypson's first round loss at the Orange Bowl. "If he loses the match and does the right things, I'm happy. Over there [the ATP Tour], it's about who wins the last point. Big difference. On some level in the match I'm looking at what we need to work on, but, not that I don't want them to win today, Patrick losing this match is not the end of the world. Andy losing the finals of Wimbledon, it's not good. I'm more interested in how Patrick plays in three years than whether he wins this match today."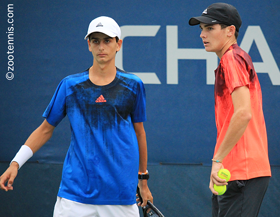 With all the boys he's working with born after his retirement, Lendl discounts any inspirational role his past might provide, instead focusing on what he can contribute as an experienced observer of the game.
"I don't do technique, that's not what I'm good at," said Lendl, who also was at the Eddie Herr tournament to watch the boys in competition. "I'm more, vision on the court, developmental, how you want to see yourself play, things like that. I make notes from every match and it's a nice file, it's growing quick, so we're going to work on the things I've seen here, after discussing it with the other coaches."
Jake Lester, Kypson's private coach at the Cary Tennis Park in North Carolina, realizes he and his student have a unique opportunity.
"I thought it was very exciting and I was also very intrigued to find out what he was going to say, to see how does somebody who has accomplished so much, what do they see in someone like Patrick, who is on his way up?" said Lester. "Personally I was excited too. I was a big fan of Ivan's when he was playing and I think it's amazing he wants to give back to the game and bring up the next generation of juniors."
Lendl sat with Lester during Kypson's three-set loss and provided feedback throughout.
"In the brief time I've spent with him, he's totally engaged in helping the boys with their development and helping them improve their game to be successful at the next level," said Lester.
"He's very direct, he's very honest, he tells them exactly what he sees, exactly what they need to work on, and they respond. And that's very admirable, I think. Someone in his position, to not just do it as a hobby, but to be all in and completely committed to these boys improving. He's not coming into it as, I'm an amazing former player, listen to me. It's, I'm a coach, I see it through a coach's eye, I see it through a Hall of Fame player's eye, why don't you try these things, why don't you work on this area of your game? I've seen him act more like a coach, rather than someone who gives advice and doesn't seem to follow up. He's very much into following up, which is fantastic."