Who's Hot?
PlaySight Hot 100 List - March '16
by Dallas Oliver, 14 March 2016
Signing Day - where high school seniors can formally commit to college tennis programs - is only a few weeks away, and Tennis Recruiting has kicked off its Countdown to Signing Day coverage. But today, TennisRecruiting.net and PlaySight celebrate all junior players with the latest version of the PlaySight Hot 100.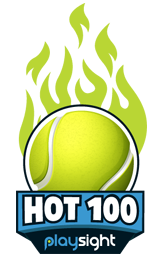 The PlaySight Hot 100 lists are published each month, and the March Hot 100 lists feature the one hundred boys and girls who most improved their rankings during the month of February. You can find out more about the PlaySight Hot 100 - and how the lists are calculated - by reading here.
The latest lists, published earlier today, are available here:
We talked to a few of these top performers...
Roundup
Kendall Nash (Jacksonville, Fla.)
Three-star sophomore Kendall Nash had a spectacular month in February - placing fourth at the Florida Sectional in Altamonte Springs, Fla., and winning the consolation draw at the USTA Closed Regional in Mobile, Ala. Her 8-3 record for the month was good enough to lift her to career-high ranking of No. 225 in the Class of 2018 - and earned her a spot on this month's PlaySight Hot 100 List.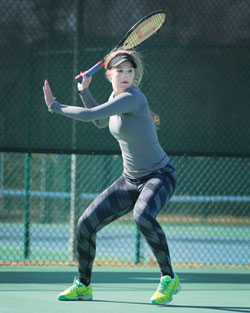 Nash has improved her consistency this year.
"I have always been a good ball striker," said Nash. "But recently I have changed my game - trying to play with more control and consistency and concentrating more on working the point and setting up my shots."
Nash's parents, Sheri and Tim Nash, agree.
"Kendall had a good month of practice - she was focused and played with an inspired passion," said Sheri. "She works hard and continues to improve both physically and mentally."
Nash works with Ivo Dentchev at the Harbor Island Tennis Centre in St. Augustine, Fla., and Scott Miller, of the Julington Creek Plantation in Jacksonville.
"We are working on improving the placement and velocity of my first serve and kicking spin on my second serve," said Nash. "I am also working on consistency and shot selection with my ground strokes."
Those improvements were on display at the Florida Sectional in her semifinal match against 4-Star sophomore Daniela Bellini - a nail-biter of a match that she lost by a score of 7-5, 3-6, 1-0 (10-8).
"Even though I lost that match, I was able to compete with a girl that I haven't been able to compete with before," said Nash. "I went into that semifinal match knowing that I'd already beat some great players. I had complete confidence in my game - and I felt prepared to win the whole tournament. Even thought I lost - and it hurt - I ended up taking fourth place in a tournament of 64 players and won the Sportsmanship Award."
Nash credits her coaches with helping her get to where she is today.
"My game is finally developing to the point where I am confident every time I walk on the court - and I know that a big part of that is due to my coaches Ivo and Scott. It also feels great that my mom, dad and support team all believe in me."
Nash's parents are understandably proud of their daughter.
"Kendall is a fearless competitor and a big hitter," said her mother. "But what distinguishes her is that she displays great sportsmanship and is an enthusiastic supporter of her friends and teammates both on and off the court."