Special Feature
Salazar Jumps From the NFL to USTA
by Rhiannon Potkey, 24 August 2017
Brent Salazar was always intrigued by the role performance training played in sports. He first thought about making it a future career while in high school.
But there is nothing like the power of personal experience to confirm convictions.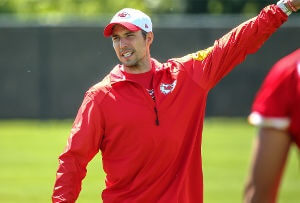 Brent Salazar spent nine years with the Kansas City Chiefs
© Kansas City Chiefs
As a tennis player at the University of New Mexico from 1998-2003, Salazar dedicated himself to being in the best shape possible to gain a competitive edge.
The physical changes not only improved his play, they provided a mental boost over his opponent.
'I felt I could bring my lunch box on the court and be ready to go to work. It was just that desire to feel the punishment and realize I was going to last longer than you and make you work more," Salazar said. "That same thing goes into the daily grind of what life throws at you. Nobody else can do it for you. You have to find your own way out of it."
After more than a decade working in the NFL, Salazar is going back to his athletic roots.
The 37-year-old was recently hired by the USTA for its newly created position of Director of Performance.
Salazar will oversee the Player Development Strength and Conditioning team and be responsible for enhancing the support the USTA provides American players.
He will be based at the USTA National Campus at Lake Nona in Orlando.
"Tennis has always been the first love for me. I grew up playing tennis, and to be able to come back and give back to a community that has invested so much time into me is really rewarding," Salazar said. "I can leave an enormous footprint for the future. I believe I can help change the culture for the good and for the long run going forward for USTA."