Special Feature
A Hard Road From Alaska To College Tennis
by Rhiannon Potkey, 8 September 2017
The alarm awakens Bonnie Hemry a few minutes before midnight.
The 76-year-old rises from bed, walks to her computer and begins making a reservation. It's a routine Hemry performs nightly nearly nine months a year to help her grandchildren achieve their tennis dreams.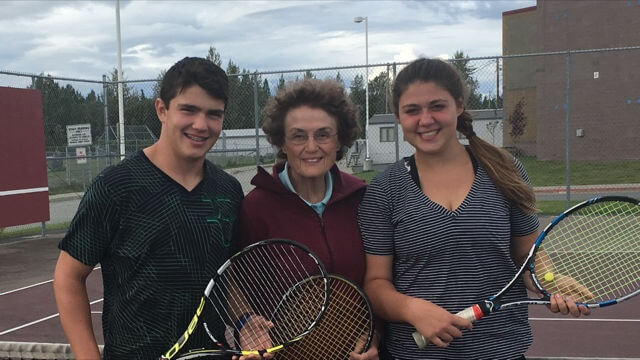 Bonnie Hemry Raised Grandchildren Joseph and Christine
There is only one tennis facility with indoor courts in Anchorage, Alaska, and it has only four courts. Only three of the courts are frequently available for public use in a city of 300,000 because one is used by a teaching professional.
Reservations have to be made three days in advance, and the first players to get through get the time slots.
Like clockwork each night, Hemry logs on at 12:01 a.m. to book a court for her grandchildren to use right after school in bad weather months.
Joseph and Christine Hemry aspire to play college tennis, but the isolation of Alaska has provided numerous hurdles.
They struggle to find quality competition and elite-level coaching. They can't afford the constant travel for tournaments to improve their games and be seen by college recruiters.
But Joseph, 17, and Christine, 16, refuse to let the roadblocks extinguish their passion.
After all, they have endured much greater hardships in life.
Their father left them when they were infants and never returned. Their mother, a local tennis star, struggled with drug addiction and committed suicide a decade ago.
Tennis has been their emotional salvation, and their grandmother has been their rock.
"They just absolutely love it. They love being out on the court every day," Bonnie said. "They both want to play in college just to be a part of a team and have tennis in their lives."