Who's Hot?
Hot 100 List - September '17
by Rhiannon Potkey, 21 September 2017
Summer was prime time for junior players to focus on tennis. Without having to worry about school, they devoted hours to training and tournament travel.
Many players made big strides on the court before returning their attention to science and math classes.
We caught up with a few players who performed well over the past month - in the September edition of the Hot 100.
The Hot 100 lists are published each month, and the September Hot 100 lists feature the one hundred boys and girls who most improved their rankings during the month of July. You can find out more about the Hot 100 - and how the lists are calculated - by
reading here
.
The latest lists, published today, are available here:
We talked to a few of these top performers:
Roundup
Corey Marley (Los Angeles, Calif.)
Academics consume Corey Marley during the school year.
He's busying preparing for AP science tests and SAT subject tests while trying to practice for tournaments.
Once summer arrives, Marley has more time to spend on the court and it shows.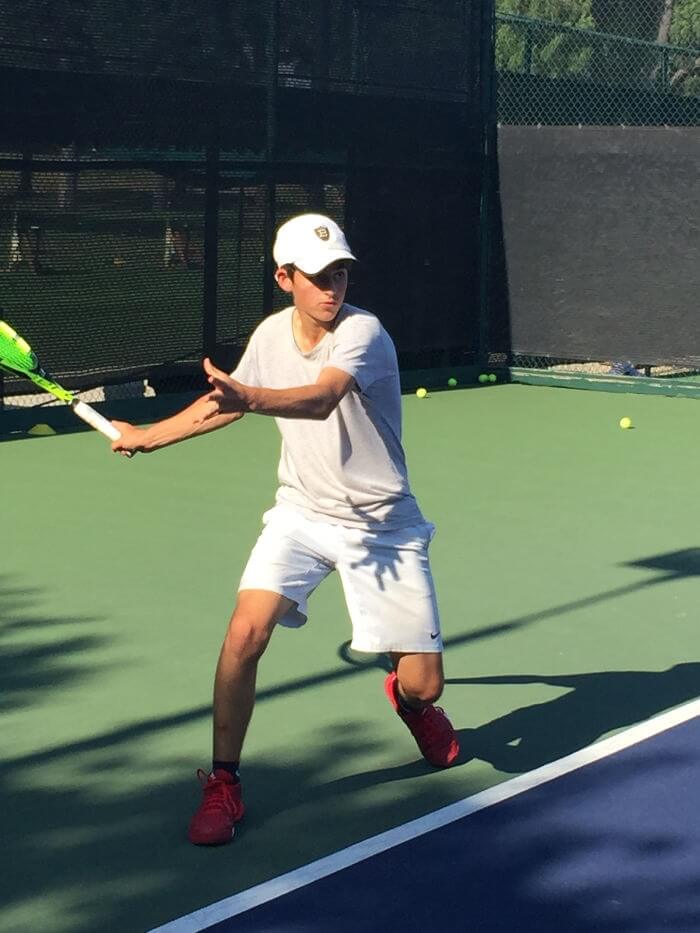 Four-Star Corey Marley
The four-star recruit finished the month of August 10-2 to move from No. 244 to No. 203 in the TRN 2020 Class rankings.
Marley trained at the Manchester Athletic Club in Massachusetts for two weeks at the end of June. He returned to California in mid-July and worked with coach, Dave Smith, at the Brentwood Country Club.
"I began a training routine with my coach and played a heavy tournament schedule," Marley said. "By being able to dedicate my time to tennis, I was able to take my game to the next level and improved results followed."
During his recent run of strong play, Marley beat two No. 1 seeds.
He outlasted Lincoln Bellamy in the three-hour semifinal at the Santa Barbara Jr. Open. Marley trailed 3-1 in the third set, but rallied to win 6-4, 3-6, 6-4.
"At 5-3, with my opponent serving, I had match point and was unable to convert and ended up losing that game," Marley said. "However, I was able to pull through and hold my serve to win the next game and the match."
Marley was born in Boca Raton, Fla., and resides in Los Angeles. His love for tennis developed through his family.
His grandparents played recreationally, and his mother, Leslie, played junior tennis in SoCal and played college tennis in Massachusetts.
"It is something I grew up with and have always been around," Marley said. "I first started playing at the age of 3 when I joined our junior clinic that my 5-year-old brother was doing. I began doing it weekly with him and have been playing ever since."
Marley competed at high levels of soccer and baseball until he was 8. He played on the basketball and flag football teams in middle school.
Although he loves to play golf for fun, Marley's competitive sports agenda has narrowed to tennis.
An aggressive baseliner, Marley is trying to improve his footwork and master his fundamentals to put himself in the right position to hit shots.
"I like to play close to the baseline to take time away from my opponents," Marley said. "Then, when I get an opportunity, I can take advantage of it."
Through the eighth grade, Marley attended Mirman School, which is for highly-gifted children. He is a sophomore at prestigious Harvard-Westlake School, enrolled in AP Calculus BC, Honors Chemistry and Honors Spanish.
Marley plans to keep academic standards at the forefront during his search for a college.
"A school where I can pursue an advanced math and science curriculum would be a great fit for me," he said. "In terms of tennis, I hope to find a place where I can compete for a regular spot in the team lineup. I am an intense competitor and look forward to the challenge of playing college tennis."