Recruiting Feature
Countdown: Family Matters To Ohio State-Bound Allen
by Rhiannon Potkey, 17 October 2017
Kolie Allen's checklist for car trips to tournaments always included her tennis bag, some extra clothes and a stuffed gorilla.
The gorilla's name was RJ, and he was named after Allen's grandfather, Ronald J. Waters. As she prepared for each match, Allen's grandfather used to tell Allen to "let the gorilla out" on the court.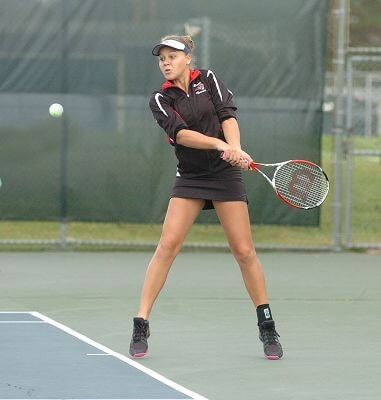 Kolie Allen Has Committed To Ohio State
RJ was a gift to Allen from her grandfather before he died from cancer in 2009.
"RJ became a very comforting thing to me because it made me think of my grandpa," Allen said. "Having RJ with me kind of made me feel like my grandpa was with me at my matches."
Having shepherded Allen through much of her junior career, RJ is ready to watch Allen take the next step in her maturation process.
He will stay behind in her bedroom at home in Lombard, Illinois, while Allen begins college at Ohio State next fall.
The first school she visited on her college recruiting tour, Ohio State remained the one Allen was enamored with until the end. The blue chip senior verbally committed to the Buckeyes to play for head coach Melissa Schaub and assistant coach Adam Cohen.
"The first time I went there it was kind of like a surreal experience. I loved Melissa and Adam and the coaches there, and I instantly got along with all the girls," Allen said. "They welcomed me like a family member from the start. It was overwhelming when I first went there because I loved the school so much."