Recruiting Feature
Countdown: Rios Stays Close To Home At Ole Miss
by
Ali Jones
, 24 October 2017
Christopher Sebastian Rios had decided early on where he wanted to go to college.
"Since about age of 11 when I started to take tennis seriously, I've had this dream of playing D1 college," Rios explained. "And I've been an Ole Miss fan since I've known about it, always loved the atmosphere at Ole Miss. I know some pretty good people who've said great things about school. Plus, I've watched the tennis team play and they're so energetic."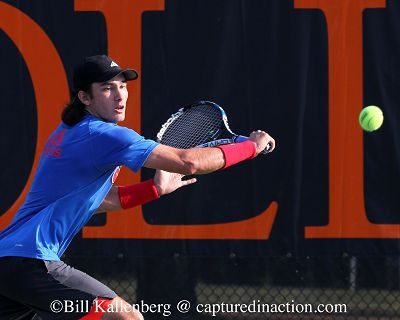 The top-ranked player from Mississippi has achieved his college goal, having committed to Ole Miss. He will start at the state's flagship campus in Oxford in fall 2018.
Rios' junior career was always focused on becoming a Rebel. He was thrilled when his stellar performance at the 2015 USTA National Hardcourt Championships at Kalamazoo merited the attention of numerous coaches. But he was especially exhilarated when the Ole Miss coaches came out to watch him.
"That's really who I wanted to watch me out of all the college coaches," Rios said. "That made me happy and I played so well in the next three rounds. I had a match point in my fourth match, but lost it in a tiebreaker. It was a bummer, but that tournament's one of my favorite memories."
His current coach, Keith Evans of KE Tennis Academy, was a former touring pro who played No. 1 singles for the Rebels.
"My coach told me all about the experience there and the training they go through," Rios said. "He got me to like Ole Miss even more."
Rios also looked at Alabama, but family and friends are important to him, so the distance between home and school was a major consideration for him.
"I wanted to stay close to home so family and friends don't have to drive three, four five or six hours to watch me play against teams," he said. "They can drive 1.5 hours and hang out with me. My family's been my biggest supporter, especially my dad. He's been the main reason I've stuck with the sport, trained my hardest. I am here now because of him, and just being able to see him in the stands and him cheering me on would be a dream come true."
The six-foot righty plays an aggressive game. He anchors it on a big serve, and moves forward as quickly as he can.
"I don't want to wear my body out, risk cramping, IV's," Rios said. "My coach was a serve-and-volleyer. His game is to come to the net as fast as he can."
Evans taught him the foundations of a fluid and effective serve and crisp volleys, but with today's equipment, Rios has to be discriminating with his approaches. He eventually works his way up the net to finish the point.
"I'm not really a grinder," he said.
He's learned to conserve his energy and take care of his body, a lesson he learned when he opted to leave traditional school to focus on tennis.
"I went to live with my coach in Memphis the second semester of my 10th Grade," he said. "I was practicing six to seven hours a day, getting home late and then doing my homework. My body wasn't really focusing on getting stronger, so it got burned out. My mom was telling me I was killing myself six, seven hours a day, but I wanted to play so bad. She said I couldn't continue doing it without hurting myself and I didn't want to risk hurting myself for a long period of time and missing the big tennis events and my friends."