Commitment Announcement
Countdown: Sweet Music for Indiana's Recruiting Class
by Rhiannon Potkey, 14 October 2017
As the other kids scrambled up the stairs to grab drinks and watch television, Carson Haskins stayed behind.
Haskins never used the short breaks during summer tennis camp for rest. He viewed them as opportunity.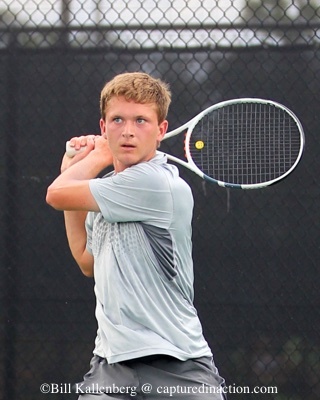 A few months earlier, Haskins had tried out for the
Miller Tennis Academy
at the Forest Lake Tennis Club in Chesterfield, Missouri. He was told he wasn't ready. He wasn't a good enough hitter.
The wall at the club became his sanctuary.
During breaks in camp, Haskins would walk over to the corner of the court and begin hitting balls against the wall over and over.
Once the camp ended each day, he would sneak back onto the court and spend hours in the same spot.
He blocked out the world around him and just focused on the ball. He ignored the sign that read "Please do not hit on the wall" and kept right on hitting.
After six months, Haskins tried out for the academy again. This time, he was accepted.
"I was pretty stubborn," Haskins said with a laugh. "I was determined to not to have them turn me down twice."
Persistence has been the fuel for Haskins' successes in life. Whether it's learning how to play the piano and violin or figuring out an opponent's tendencies, Haskins refuses to surrender until reaching his goal.
The blue chip senior crossed off another achievement by announcing his committment to play at Indiana University.
"Going into this, my parents weren't thinking I was going to be able to get a scholarship just because it was so tough," said Haskins, the top-ranked player in Missouri. "But it turned out pretty well. It's something I have wanted for a long time and it feels great to get a scholarship and go to a Division I college to play tennis."