Tournament Summary
Ross, Sanford Earn Asics Easter Bowl ITF Titles
by
Colette Lewis
, 20 April 2016
Both Gianni Ross and Alexandra Sanford were making their first appearances in International Tennis Federation Grade 1 finals at the Asics Easter Bowl earlier this month at the Indian Wells Tennis Garden. They succeeded in making that new experience to a winning one, coming away with the trophies at the ITF Grade B1 event, closed to residents of the United States. The unseeded Ross defeated No. 4 seed John McNally 6-4, 7-6(3) in the boys championship match, with No. 8 seed Sanford overcoming No. 13 seed Ellie Douglas 6-4, 1-6, 6-1 in the girls final.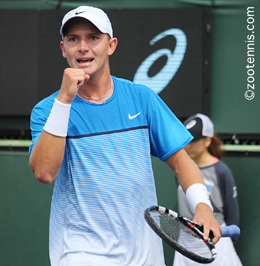 The scorching heat earlier in the week, with temperatures approaching 100 degrees, was long gone by the final weekend. No wind and temperatures in the 70s made for ideal playing and viewing conditions, with approximately 100 local tennis fans on hand to witness the tense boys final that kicked off finals day.
Ross had beaten No. 13 seed Trent Bryde 7-5, 5-7, 6-2 in the quarterfinals and Nathan Ponwith, the 2014 finalist, 6-4, 6-2 in the semifinals. McNally had taken out International Spring Grade 1 champion Liam Caruana, the No. 10 seed, 6-4, 7-5 in the quarterfinals and No. 6 seed Vasil Kirkov 6-2, 6-4 in the semifinals, his fourth and fifth consecutive straight-set wins.
That streak ended in the final, when Ross hit two great returns at 4-5, 15-30 to take the opening set from his former Midwest section rival and doubles partner.
Ross, who was playing at a breakneck pace in the first set, slowed down in the second set, and after its sixth game, when McNally saved five break points in a nine-deuce game, the tide began to turn in McNally's favor.
In the next game, Ross was broken on a double fault and McNally took the lead in the set, which he held until serving at 5-4. McNally, a 17-year-old from Cincinnati, needed to save two break points in that game before finally earning a set point. Ross, who had been controlling many of the points from the baseline, hit an unexpected drop shot after a long rally on that set point and the ball spun back toward the net, giving McNally no chance to reach it.
"I have dump truck hands, would be the best way to put it," said Ross, a 17-year-old from Illinois who now lives in Boca Raton. "I got very lucky in that game. I was fortunate to get that game, at break point, I hit a good backhand down the line, but all in all, it was luck and luck."
McNally agreed that fortune favored Ross in that game.
"We had a 36-, 40-ball rally and he comes up with a drop shot at his shoestrings," said McNally, who was playing in his third and last Easter Bowl final, having won the 16s title in 2014. "A half-shank drop shot, you can't really do anything about that. It was a pretty lucky game. A shank drop shot and the next point at deuce, he gets a let cord. You can't really do anything about that, it kind of sucks."