Who's Hot
Hot 100 List - October '17
by Amelia Thomas, 19 October 2017
This time of year, the Countdown to Signing Day consumes most of our content on TennisRecruiting.net. We took the time to bring you one of our regular features this week, the Hot 100 Article.
We caught up with a few players who performed well over the past month - in the October edition of the Prince Hot 100.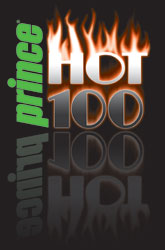 The Prince Hot 100 lists are published each month, and the October Hot 100 lists feature the one hundred boys and girls who most improved their rankings during the month of September. You can find out more about the Prince Hot 100 - and how the lists are calculated - by reading here.
The latest lists, published today, are available here:
We talked to a few of these top performers:
Roundup
Jordan Grayson (Gaithersburg, Md.)
Last year, four-star freshman Jordan Grayson set a challenging goal for herself: she decided to work towards increasing her Universal Tennis Ranking by a full point within the coming year.
Four-Star Freshman Jordan Grayson
Grayson took off three months of tournament play at the end of 2016 to focus on this goal and improve specific aspects of her match play. She trains with coach Benjamin Cappuccitti of JTCC in College Park, Md., and credits him for her recent improvements along with the time off.
"My coach and I are currently working on knowing when to take balls on the rise versus when to let the ball drop as well as returning deep, flat shots," said Grayson, who previously trained at the Hong Tennis Training Centre. "We are also working to increase racket head speed on my serves."
When Grayson returned to competition, she knew she had to start beating players at or above her level in order to reach her goal.
"That definitely helped to push and motivate me on the court," she said. "Also, some of my best friends now are my tennis opponents. We push each other."
Grayson had difficulty identifying just one best match of late. "There's definitely been a lot of tough matches along the way, but I would have to say that my best win came at the Cary Tennis Championships," she said. There, she met five-star Vivian Miller in the quarterfinals.
"While my opponent came out very strong, I was off to a slow start," Grayson said. "After losing the first set, 3-6, I knew that I had to focus." Having been in a similar situation in a tournament the previous weekend, Grayson was determined to learn from her previous mistakes and not give up another set.
"I decided to apply some of the techniques I learned in training, which ended up being the key to winning the second set," she said. "The third set was where my mental game really came into play. We had been playing for almost two hours and fatigue was setting in. I had to play smarter, more efficient, and remain focused." In the end, Grayson took the match, 3-6, 6-2, 6-2.
Grayson went on to win the Cary Tennis Championship. She also competed in two USTA Mas Championships. She won the playoffs of one in College Park, Md. and reached the finals of the other in Washington, D.C. She earned a 13-2 record for the month of September.
As a freshman, Grayson is not yet focused on college, but she knows that her strong mental game will carry her far in the future. She has won good sportsmanship awards on three separate occasions.
"At my age, I think we are all just trying to get better and work on our game, but I think what distinguishes me from the rest is my attention to my mental game," she said. "I've been described as a player that has great composure no matter what the situation or the outcome of the game."
Marco Alvarez (Chula Vista, Calif.)
Four-star junior Marco Alvarez was born in San Diego but spent most of his childhood in Tijuana, Mexico. He got interested in tennis through his mother, Sonia Alvarez, who has played with a passion since the age of eight. There are far fewer resources for pursuing tennis in Mexico, however, and Sonia was never able to reach her full tennis potential.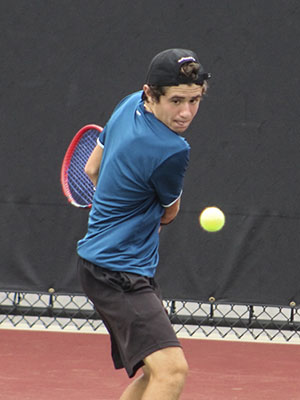 Four-Star Junior Marco Alvarez
That is why Marco Alvarez's parents encouraged him to move to California when he was 15, and he joined his sister and cousin in Chula Vista, Calif., where he could play high school tennis.
"My parents still live in Tijuana, and every Friday after school I try to go [visit]," Alvarez said. "But I don't see them a lot, so that's a really big sacrifice for me."
The distance from his family is one of many sacrifices Alvarez has made for the sport. He is mostly independent as just a junior in high school, and he takes all the responsibility upon himself for his training regiment.
Alvarez practices with his cousin, Rafael Martinez, who played for Holy Names University and is the assistant coach at Sonoma State University. Alvarez incorporates a great deal of fitness into his practices. Lately, he has been focusing on his serve.
"I've been working a lot on my serve and my forehand, because I am trying to finish the point quicker," he said. "I have to do more than 50 serves a day."
Alvarez's sacrifices are paying off in strong results. Last month, he won the Los Caballeros Tournament in Costa Mesa, Calif. He earned a 7-2 record for September and jumped into the top 150 on the College Recruiting Lists.
Alvarez plans to follow in his cousin's footsteps and play tennis in college. He is interested in UC Davis, UC Irvine, and UC Santa Barbara among other schools.
"I definitely know that I want to go to school before trying pro," he said. "I want a really good academic program and also a really good tennis program so I can improve during those four years."
Jesse Hollins (Orchard Park, N.Y.)
Like many junior players, four-star sophomore Jesse Hollins got into tennis through the influence of her family. One of five children, Hollins grew up watching her older sisters, Haley and Karis Hollins, play.
Four-Star Sophomore Jesse Hollins
"I saw my sisters playing at a country club [when I was] three and like the way the sport was played," Jesse Hollins said.
Growing up, Hollins also played basketball and still enjoys playing baseball and football with her two brothers, but she has narrowed in her focus on tennis over the years.
"Jesse has always loved to compete in a variety of sports, but her true passion and talent is being on the tennis court," her father, Dave Hollins, said.
Hollins works with coaches Marcus Fugare and Tony Miller of the Miller Tennis Center in Williamsville, N.Y. The three are currently working on greater spin and racket head speed on Hollins' serves.
"I would say I'm an all-around player with powerful ground strokes and high speed agility," Hollins said.
Hollins believes that what distinguishes her from other players is her positive attitude and mental game.
"I feel that my attitude is something that separates me," she said. "I hardly show negative emotion and am always focusing on the positives."
Hollins had to use her strong mental game in a match last month that she considers her best recent win. She played a USTA National tournament in Grand Rapids, Mich. at the end of September, where she encountered four-star junior Jessica Braun in the first match.
"In the first set, I felt like I was on a roll and won it pretty easily. In the second set, [Braun] began picking up her game and we split," Hollins said. "However, in the third set tiebreak, my confidence was still at a high." Hollins took the match, 6-0, 4-6, 10-5.
Hollins went on to win the playoffs of this national event. Last month, she also took the playoffs of the Eastern Super Six Tournament in Syracuse, N.Y. and won the Midtown Fall Championships in Rochester, N.Y. With these results, she jumped into the top 100 on the College Recruiting Lists.
Hollins' recent results certainly have her thinking about the future of her game. "I am looking to play DI at a top 50 school in the nation," she said.
Tate Sandman (Raleigh, N.C.)
A big part of three-star sophomore Tate Sandman's improvements has been adjusting to his body type. "Things are just starting to come together with my game, my size, and my strengths," Sandman said.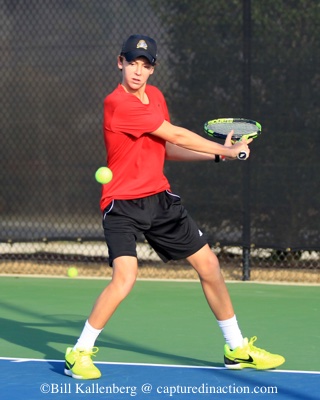 He was diagnosed with Celiac Disease two years ago after being sick for some time. "Once I knew I needed to avoid gluten, things got better quickly," he said. "I grew a lot taller and gained a lot of weight. I'm still gaining. As I've grown stronger, my game has improved."
The 5-foot-11 sophomore works with tennis coach Christian Welte of North Ridge Tennis and performance training and physiotherapy coach, Jeff Vajay of Studio Revolution.
"I've been with my tennis coach for four years now, and it's about following the game plan and trusting my coach and the process," Sandman said. "Some of the things we are working on are for now, and some are for developing me towards where I need to be in the future."
Currently, Sandman and Welte are focusing on Sandman's serve. "We are working on switching my service motion from a platform to a step up," he said.
Sandman describes himself as a counter-puncher and named his strengths as his forehand and his slice.
"I'm very stable from the ground, and when I get a short ball, I'll attack and move forward," he said. "I'm not necessarily the biggest guy, so my fitness and agility have to be really strong. I'm always working on making them better. I train regularly in agility and fitness both on and off the court."
All these moving parts are coming together for Sandman. Highlights of his last month of tennis include winning the Raleigh Racquet Club Junior Classic, reaching the consolation quarterfinals of a USTA National Tournament in Memphis, Tenn., and making it to the consolation semifinals of the Cary Tennis Park Classic.
Sandman believes his best recent win, however, came back in August. He competed in the N.C. Summer State Closed and played against a good friend, four-star Peyton Gatti, in the playoff match for fifth and sixth place.
"We've played each other so many times over the past four years, and it can go either way. He's a really strong, big player," Sandman said.
The two players split sets, 7-6(2), 2-6, and then Sandman went down 4-3 in the third set. "I had a big break at four-all, and then I held to win the third set, 6-4."
Sandman has not started to look at colleges yet, but he has faith in his own work ethic and the support of his coach.
"I am lucky because I have an incredible coach who really knows what he's doing," Sandman said. "He understands me better than anyone, gets the big picture with my tennis, and I trust him completely. If he's having me spend time on something, there's a reason for it."
Presented by Prince
Prince Sports, Inc., is proud to be the presenting sponsor of the Hot 100.
Based in New Jersey, Prince is a company of racquet sports enthusiasts whose goal is to create cutting edge, functional and technically advanced products that deliver performance benefits for avid players. The Company's portfolio of brands includes Prince (tennis, squash and badminton), Ektelon (racquetball) and Viking (platform/paddle tennis). The Company has a history of innovation including inventing the first "oversize" and "longbody" racquets, the first "Natural Foot Shape" tennis shoe, the first "synthetic gut" string and the first electronic ball machine.
Today, Prince markets leading technologies in racquets (EXO3), string (Recoil), footwear (Precision Tube Technology) and apparel (Aerotech). It has operations on three continents with distribution in over 100 countries.
For more information on players, products or programs please visit Prince Sports, Prince Tennis, and the Prince EXO3 site.
Leave a Comment
More Roundup Articles
7-Nov-2017
Fall Signing Week 2017: Spanning The Nation For Recruits
Players from around the nation are signing their National Letter of Intent this week. They are going to schools big and small, from the East Coast to the West Coast. Find out how Lauren Dunlap, Tomas del Olmo, Tatum Burger, Adam Oscislawski, Kate Paulus and Nicklas Oberg made their decisions.
23-Oct-2017
Countdown: Blue Chip Girls
With Signing Day just around the corner, things are heating up on the recruiting trail. We reported on the boys last week - but today we check in the top girls. Check out the status of the Blue Chip girls in the Class of 2018 ...
19-Oct-2017
Hot 100 List - October '17
Today we announce the October edition of the Hot 100. The Hot 100 features 100 boys and 100 girls who have been playing outstanding tennis. These players have substantially improved their rankings over the past month.
About Amelia Thomas
Amelia Thomas has been the author of the Hot 100 column at Tennis Recruiting since Fall 2009. Thomas, currently a student at Appalachian State University in Boone, has been involved in journalism in both high school and college. She served as editor of her school's online news site in 2011 and 2012, and she placed in a National Scholastic competition for Feature of the Year.