Recruiting Profile Roundup
Fall Signing Week 2017: Spanning The Nation For Recruits
by Rhiannon Potkey, 7 November 2017
Signing Week is in full swing! As high school seniors sign their National Letters of Intent during the early fall signing period this week, we've been covering all the action.
Today, we check in with a diverse group of players from around the country to find out where they are going to college and what factors went into their decisions.
One saw his hometown destroyed by the recent hurricanes. One has a father that served in Iraq. One is recovering from an injury and one is joining his sister at the same school.
Lauren Dunlap (Lithia, Florida) to Montana:
Lauren Dunlap is an Army brat.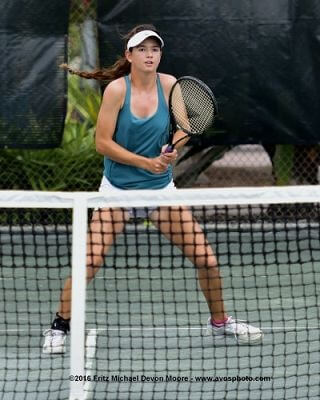 During her dad's time in the military, Dunlap was born in Ohio, moved to Arizona, moved to Hawaii, moved back to Arizona, moved to New York and finally settled in Florida.
The frequent change of addresses impacted Dunlap's tennis career.
"It was kind of hard because when I moved from Arizona to New York I lost all my USTA points and had to start over, which really didn't help," Dunlap said. "Going to new academies can be kind of intimidating too. But the really cool part is I have met so many people."
Dunlap has thrived in Florida thanks to her private coach Damon Henkel. He helped the four star develop into a college prospect who has committed to Montana.
"Damon is the longest I've ever had someone coach me before moving, so we're really close," Dunlap said. "My dad was over in Iraq a lot, so I'd always look at Damon as a second dad to me almost."
What were you looking for in a college?
"I was kind of considering everything. The big thing for me was wherever I could get a full ride, especially out of state because my family couldn't pay for an out-of-state school. I just emailed everyone everywhere to see what I could find. I was really open to going anywhere since I have lived in all different places. But I really wanted to go out West."
How much did coaching factor into your decision?
"I wanted to find a coach I really liked and Steve Ascher is amazing. He is very energetic. He really made an attempt to get to know me at the start of the process. He made my decision so much easier. He still emails me once a week to give me updates on how the team is doing and wants to know how I am doing and how my tournaments are going."
Did you make any visits to the campus?
"I stayed for two days on my official visit. I was there for a football game and got to hang out with the team. They were amazing. I felt like I was friends with them when I got there. It's always intimidating going into that situation, but they were so nice. I toured the school and learned all about the academics. I got up at 5 am to watch the team workout. It was really exhausting because of all the information you had to take in. But it was a great visit."
What are your goals for your freshman year?
"I definitely want to play in the lineup for sure. I don't know exactly where I will play. I just want to have a good freshman year. Where I train now is super intense, so I feel like I will be prepared for practices and working out and hopefully I can do good."