College Feature
Talking with Division III Men's Singles Champion Skyler Butts
by
Colette Lewis
, 8 June 2016
Skyler Butts of Claremont-Mudd-Scripps ended his career on a high note last month in Kalamazoo, claiming the Division III men's singles title after reaching the final in 2015, the same year the Stags claimed their first team championship since 1981. After his victory in Kalamazoo, I spoke with the 22-year-old Californian, a four-time All-American who was recently named the ITA Division III Senior Player of the Year, about his tennis background, postgraduate plans, one-handed backhand, hobbies and why Division III was the right choice for him.
Questions and Answers
Colette Lewis (CL): Why did you decide to play Division III tennis?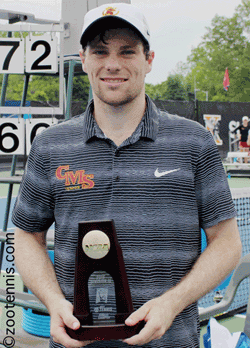 Skyler Butts (SB):
I grew up in Hong Kong and didn't come to the US until I was 16. I had very limited match experience, so it was all about learning how to win, and I really didn't understand that until the summer before I entered college. So I wasn't really getting a lot of offers from D-I programs, just because my ranking wasn't where it should be. Even Coach [Paul] Settles wasn't looking at me that closely. I had played a lot with the
UC-Irvine
guys because I lived nearby, and [Settles] and Coach [Trevor] Kronemann, who is no longer there, were very close, they were teammates, and Coach Kronemann was pretty high on me. He had already gotten the six guys he needed so it was too late for that, but I wanted to go to a good academic school, which Claremont was, and it felt like the right fit for me.
CL: What were the advantages of Division III for you?
SB: It provided me with the opportunity to play early and get that match experience that I needed to really grow my game. It was four years of hard work, moving slowly up the lineup, getting better every year.
CL: How much did you play in Hong Kong?
SB: It's a little limited in Hong Kong, in terms of tournament play. All the good players are traveling internationally, ITFs and stuff, which I wasn't really doing. So my move to the US was just to get that match experience. My dad still lives in Hong Kong, he works over there, but he's been here in Kalamazoo all week. I don't get to see him too much, so it was nice having him here. But my mom and my sister moved back to California with me. My sister just graduated and she's going to Scripps College. She's an artist.