Commitment Announcement
Duke-Bound Johns Puts Sportsmanship First
by Rhiannon Potkey, 6 December 2017
Garrett Johns didn't want the trophy. It's not that Johns wasn't grateful for the hardware, he just knew somebody may want it more.
After capturing the Boys 12s title at the USTA National in Peachtree City, Georgia, four years ago, Johns walked over to Luke Forbes and handed him the trophy.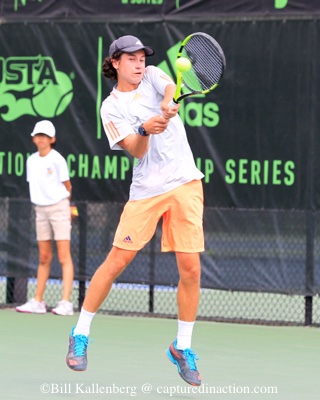 Luke is the younger brother of blue chip Abigail Forbes. Luke has autism, and had never received a big award before.
Other than seeing him at the courts each day, Johns didn't know much about Luke. It didn't matter. He just wanted to help brighten his day.
"It touched my heart so much. My son has special needs, but Garrett made Lukie feel like he belonged and was not just somebody watching his sister play all the time," said Luke's mother, Denise Lawson-Forbes. "It really conveyed who Garrett Johns is inside. Not only is he a great player, but he is a special young man and a sweet, sweet kid."
Johns is as competitive as they come. The Atlanta native wants to win every match. But he never loses sight of the bigger picture.
The blue chip junior doesn't want winning to come at the expense of being a class act.
At the USTA Boys 18 & 16 National Championships in Kalamazoo in August, Johns received the Bobby Kaplan Sportsmanship Award for the Boys 16s.
It was an honor that played a role in his recruiting process.
Once Kalamazoo ended, Duke head coach Ramsey Smith sent Johns a handwritten letter in the mail.
"It said they would love to have Garrett play for Duke, and had a P.S. saying Ramsey and his assistant coach (Jonathan Stokke) won the Sportsmanship Award at Kalamazoo as well," said Johns' mother, Lynn. "We all thought that was pretty cool."
Johns officially committed to Duke two weeks ago when Smith called and offered him a scholarship.
Johns took an unofficial visit to the campus and enjoyed everything about the school. A die-hard basketball fan who knows the names of every top prospect, he even got to watch the top-ranked Duke men scrimmage.
"I felt like the coaches and I had a good connection and that I should definitely take the offer," said Johns, who also considered Georgia, Tennessee, Florida State and UC Santa Barbara. "I wasn't going to rush my decision, but I was going to choose the school that felt like the right fit and I felt like Duke was the right fit for me."
Johns was born in Atlanta and began playing tennis at a local club when he was 5. The sport ran in his family with his mother having played at Villanova and his aunt playing at Clemson before transferring to Purdue.
But breeding the next great tennis star wasn't the plan.
"I absolutely did not want to have a tennis player," Lynn Johns said with a laugh. "I wanted him to play another sport, but he picked up tennis and really enjoyed it."
Johns is a bit of a rarity in junior tennis. He's been working with the same coach since the first day he started.
Even when Noel Wadawu moved from The Riverside Club to the nearby Universal Tennis Academy, Johns followed him.
"It's really a credit to the parents and Garrett. Nowadays, you don't take a kid from beginning to end as they get better," Wadawu said. "Trust me, there were plenty of reasons for them to leave when he wasn't doing well. Most parents pull out. But they really trusted and believed in the process and the relationship I had with their son."
The biggest struggle in the relationship may have been figuring out which hand Johns would use for his forehand and backhand.
"He shows up that first day and his mom told me he was a lefty because he does everything else left-handed. We spent six months with him playing lefty and he couldn't hit the backside of a barn," Wadawu said. "I was getting so mad because it didn't make sense. He was an athletic kid and I had no idea why he couldn't coordinate this somehow. So one day I told him to pick up the racket with his right hand and he started playing well."
Johns played multiple sports throughout his childhood, excelling in lacrosse, basketball and cross country when he wasn't playing tennis. He still plays in a church basketball league with his friends.
Until studying for the ACT took priority this year, Johns also played the violin in the school orchestra.
"We've wanted to keep him as balanced as possible. It has not been easy," Lynn Johns said. "It's been a long road and we've made plenty of mistakes, but the thing I think we did right is encourage him to stay in school."
Johns has attended Holy Innocents Episcopal School since he was 6. He hangs out with his friends on Friday nights and sits in the stands at football games during the fall.
"I thought about going to a tennis program like IMG, but I really felt more comfortable in regular school," said Johns, who won the USTA National Boys 16s Clay Court singles title last July. "My school is pretty good about letting me miss school for tennis when I need to and make up the work. They are pretty helpful."
Johns may not get as much court time as other players because he's in the classroom, but he makes the most of his practice on the court.
"His work ethic and discipline really stand out. He makes sacrifices to go directly from school to train each day," Wadawu said. "He knows we only have 2 ½ hours most afternoons and works hard the entire time. We also go in the morning at 6 a.m. twice a week before school, and he shows up every time no matter what."
Johns' purposeful nature was partially instilled by his grandmother.
Mary Lou Johns coached the Memphis State (now the University of Memphis) women's basketball team from 1972-1991. She led the program to 15 straight winning seasons, two Metro Conference championships and three NCAA tournament appearances.
Garrett and his older brother, Cameron, helped their grandmother run camps and served as water and towel boys at some games.
"She has been a huge influence in Garrett's life. She is very tough, but has a really good heart," Lynn Johns said. "I think she's had a lot to do with Garrett's discipline. It's not perfect, but she really helped him in that area."
Johns' Grandmother Coached Basketball at Memphis State
Mary Lou still lives in the Memphis area and coached middle school students in basketball, lacrosse, golf and tennis until retiring last year.
Her influence in the city is obvious every time her family visits.
"Last Thanksgiving we were on Beale Street in a shop and one boy said, 'Oh my gosh. There is Mary Lou Johns. You were my P.E. teacher at Memphis State. Nobody thought I would do anything and you told me I could,'" Lynn Johns said. "She impacted and changed many lives."
Garrett Johns has tried to represent his family well on the tennis court.
During a recent tournament in Mexico, he came down with food poisoning two days before his first match. Johns attempted to play, but began feeling dizzy and fatigued after capturing the first set.
Instead of calling for a trainer or retiring, Johns stayed on the court until the match was finished. He lost in three sets.
"It was painful for me to watch, but he didn't want to quit and make his opponent feel like he didn't deserve the win. That is the biggest thing about this kid. He's at a different level in terms of character and morals than anyone I've been around," said Wadawu, who received the Arthur Ashe Sportsmanship Award while playing at Florida A&M. "He just plays the game with a different moral level than I could have ever imagined. He truly has a great heart."
Johns doesn't seek any attention for his treatment of others. He simply does it because he thinks it's the right thing to do.
Once he begins attending Duke, Johns will already have a big fan living in the Raleigh, North Carolina, area.
Luke Forbes, now 13 and beginning to play sports, will always remember the kindness Johns displayed many years ago in Peachtree City.
"To this day, Lukie has that trophy on the shelf," Denise Lawson-Forbes said. "It still means so much to him."
Leave a Comment
More Recruiting Profiles
12-Dec-2017
The Name Game: Brigham Signs with BYU
By name alone, Brigham Andrus seemed destined to attend Brigham Young University from the moment he was born. The Highland, Utah, native signed to play for BYU during the early signing period and will join the Cougars after serving a two-year Mormon mission. His older brother has also signed to play for BYU.
29-Nov-2017
Gallagher Ready To Begin College At 16
Blue chip Sedona Gallagher is graduating from high school two years early so she can begin attendng the University of Washington. The 15-year-old signed her National Letter of Intent during the early signing period two weeks ago.
16-Nov-2017
LSU Commit Is A Woman Among Boys
Maggie Cubitt grew up playing tennis with a group of boys. Although they made her cry at first, Cubitt eventually earned their respect. They helped the five-star junior develop into a successful player who just committed to LSU.
About Rhiannon Potkey
Rhiannon Potkey is a veteran sportswriter with more than two decades of experience in journalism. Potkey has covered many sports at many levels and has a passion for finding great stories. Potkey has covered the U.S. Open, junior sectional and national events, college conference championships and Davis Cup matches. Potkey is currently Content Strategist for Tennis Recruiting.