Clay Court Championship Week
Wiersholm Earns First Gold Ball in Boca Raton
by
Ali Jones
, 26 July 2016
In a finals match punctuated by suspense, surprise, momentum swings and two lefties, sixth seed Katja Wiersholm of Kirkland, Washington, emerged victorious over second seed Robin Montgomery of Washington, D.C., 7-6 (5), 0-6, 7-6(4) at the 2016 National Clay Court Championships.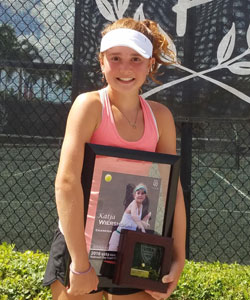 "I'm tired, but happy and excited," the 12-year-old champion said. "I've never won anything like that before."
Over seven days at the posh Polo Club of Boca Raton, the rising seventh grader played a total of 13 matches in singles and doubles, and remained mentally tough and physically strong as she persevered through heat, humidity and seemingly interminable points.
"Katja's comfortable being uncomfortable," said Dan Willman, founder and coach of the Northwest High Performance Tennis in Kirkland, Washington, where Katja trains. "She demonstrates extraordinary grit, which can only be attributed to putting in the work every single day. She pushes herself past her comfort level more than anyone I've seen."
Wiersholm's remarkable run at the Clays began matter of factly, as she routinely won her first three singles rounds in straight sets. In the round of 16, she was one game from elimination in the hands of Sydney Sharma of Warren, New Jersey.
"At love-5 in the third, all you can really do is fight," reasoned the precocious Wiersholm, currently rated a five star. "I just needed to get back in the game and be like, I'm not going to give her 6-0, I'm not going to give it to her that easily. I'm just going to keep going for as long as I can."
Wiersholm got the set to 4-5, at which point Sharma, who played a three-and-a-half hour match the previous day, had to retire due to dehydration. In the quarters, Wiersholm defeated the top seed and 2015 Hard Courts 12s champion Nikki Yanez in three sets, 1-6, 6-3, 6-3.
In the finals match, Wiersholm faced 11-year-old Montgomery, nationally ranked 4th in the Class of 2022 who trains at the Junior Tennis Champions Center (JTCC) in College Park, Maryland.