Commitment Profile
Kourkina Relieves Stress by Committing to Vanderbilt
by Rhiannon Potkey, 27 December 2017
The recruiting process stressed out Dasha Kourkina.
Although Kourkina appreciated coaches coming to watch her play and calling to talk about their schools, trying to narrow her options only heightened her anxiety.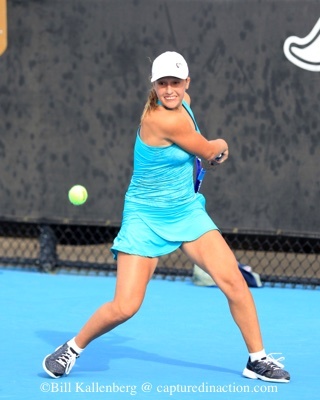 She wanted to stop thinking about it. She wanted to stop worrying about it.
Vanderbilt solved her problem.
The blue chip junior didn't need to wait any longer to make her decision once she visited the campus in Nashville.
"I just had a really good feeling this was the school for me. I saw myself fitting in well with the team and I really liked the coaches," Kourkina said. "They are the perfect people to develop my game. After that visit, I was like, 'I am going there.'"
Kourkina took trips to Princeton, Columbia and North Carolina over the last few months. But once she returned from Vanderbilt, her mother knew she had found the right place.
"She really loved everything the school. She was very comfortable and she liked that they were concerned not just about tennis, but about her education too," Olga Kourkina said. "She really wanted to go somewhere that didn't just care about one thing. She wanted the school to be focused on both wherever she went."