Winter Nationals Week
Quan Makes Dominant First Impression To Win Boys 12s Title
by Rhiannon Potkey, 8 January 2018
Rudy Quan had never competed in a national championship before.
The rookie made his debut look easy.
By any number, Quan's run to the Boys 12s singles title at the USTA Winter National Championships in Tucson, Arizona was dominant.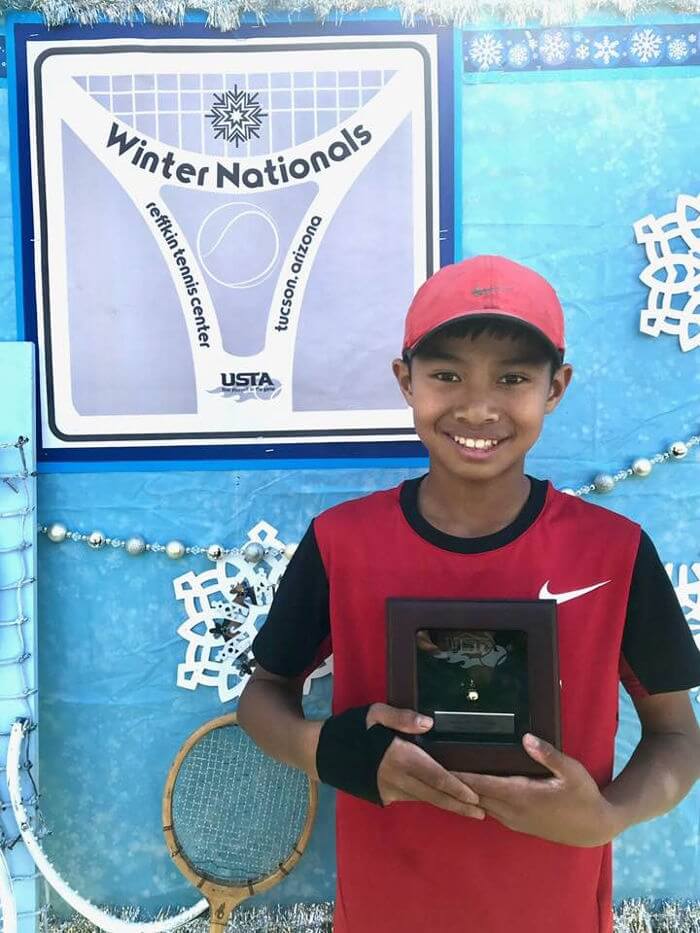 Boys 12s Singles Champion Rudy Quan
Quan lost only 13 games in seven matches. He won six sets by a score of 6-0. The most games he dropped in one set was four, and that came in the final, where the seventh-seeded Quan defeated No. 9 Kaylan Bigun (College Park, Maryland) 6-4, 6-0 at Reffkin Tennis Center.
"I feel very happy and proud of myself because I worked hard for this tournament," said Quan, a 7th grader from Roseville, California. "It was tough throughout the entire final match, but I was able to get through it at the end."
Quan has been working with Mike Gennette at Total Tennis Academy in Thousand Oaks, California, for the last 16 months. Before Quan left for Arizona, Gennette and Quan reviewed the complete Winter Nationals schedule to map out every day in detail. Gennette Quan prepared for the long hours he would encounter.
"One of the goals that Rudy did very well with was get through each day as if it was any other day of tennis," said Gennette, the head men's and women's coach at Cal Lutheran University. "In between the various technical aspects that we've been working on, he was able to learn a lot about organizing points.
"His tennis IQ is getting very high. I think he could do pretty well at the international level, but we're not rushing anything. He's got a lot of time. The most important thing for him right now is just to make sure that he's having fun and stays motivated. So far, so good."