Winter Nationals Week
Castillo Makes Triumphant Return to Win Girls 14s Singles Title
by
Ali Jones
, 9 January 2018
Midori Castillo Meza had a modest goal when she arrived in Tucson, Arizona for the USTA National Winter Championships - win one round in the Girls 14s draw, which would be one round more than she won in the 2016 tournament.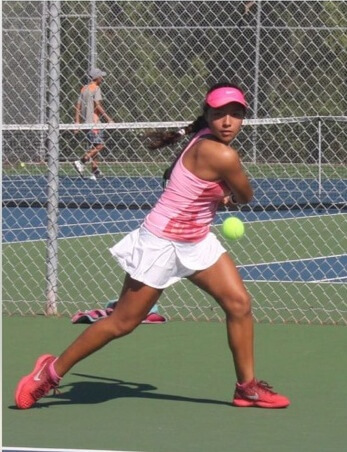 Girls 14s Singles Champion Midori Castillo Meza
Seven matches later, Castillo capped a remarkable run that saw her drop only two sets en route to winning her first gold ball in USTA tournament play.
"I was very, very happy," said the 14-year-old from Chula Vista, California.
Castillo's victory marked the culmination of a year of trials and break-through triumphs. Among the setbacks she encountered was a six-month ban from USTA competition after competing for Mexico in an international junior competition — an inadvertent rules infraction that left Castillo without enough points to gain direct entry into the year-end Winter Championships after serving out her suspension. USTA officials granted Castillo entry into the tournament, and she parlayed the opportunity into a national title.
Castillo came into the tournament with high confidence after a strong summer-autumn run in a series of ITF tournaments in Mexico, Costa Rica and El Salvador. In August, she qualified for the main draw of the Tampico Junior Cup in Tampico, Mexico, and advanced to the semifinals before losing. The following week, she won a tournament in Monterrey, Mexico. She capped off her successful ITF run in November by winning the Edicion Christmas Cup Costa Rica in San Jose, Costa Rica, followed by another win in the Copa El Salvador ITF Junior in La Libertad, El Salvador.
Castillo ended the year with a combined ITF ranking of 385, based on a 17-1 record in singles and 5-3 in doubles.
Unlike many of her peers, Castillo is a relative latecomer to the sport. Her sports activities included soccer, gymnastics and swimming before she picked up a tennis racket at age 7. She fell in love with the sport, and started competing in Southern California entry-level satellite tournaments the following year.
"At first I wasn't winning any tournaments," she said. But hard work changed that, and at age 9, she won her first SoCal satellite event. Then another. And another.
"I liked how I felt winning," she said.