Championship Week
Pielet Wins Third Gold Ball in 14s Nationals
by Todd Holcomb, 17 August 2016
Gianna Pielet summed up the meaning of the USTA Girls 14 National Championships pretty well.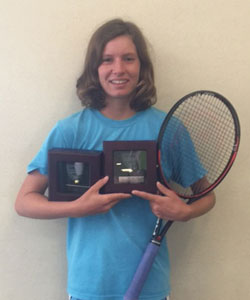 "You win a gold ball in this tournament; the others you don't," Pielet said. "I get my name put in back of the USTA yearbook. That's a very prestigious award."
It was Pielet's third gold ball, and her most significant. Her previous national titles came in the 12-and-under division at Winter Nationals in Tucson, Ariz.
Pielet defeated seven opponents without losing a set. She was at her best in the final - a 6-1, 6-2 victory over Sonia Maheshwari of Morrisville, N.C.
The tournament, played at Peachtree City Tennis Center outside of Atlanta, was marked by falling rain and falling seeds. Four days were delayed by weather, forcing some matches to be finished indoors.
The first major upset came in the round of 32, when Tara Malik of North Bergen, N.J., knocked off No. 1 seed Rachel Arbitman of Hewlett, N.Y., 5-7, 6-2, 6-4.
The No. 2 seed, Ellie Coleman of Midland, Mich., went out in the quarterfinals. Karina Miller, also of Michigan, beat Coleman 7-5, 6-2. Miller then lost to Pielet in the semifinals but won the third-place playoff 6-0, 6-2 over Emily Desai of Greenwood, Ind.
Maheshwari had the best run of an underdog. Unseeded, she defeated No. 17 Iris Gallo of Longmeadow, Mass., 6-4, 3-6, 6-0 in first round. She didn't lose another set until the final and knocked out No. 6 seed Kiana Graham of Austin, Texas, along the way.