Championship Week
Mossmer Finishes Strong in Girls 16 Nationals
by Keith Kropp, 18 August 2016
Throughout her seven matches in the 2016 USTA Junior Girls Nationals, Nicole Mossmer proved to be an an excellent starter and finisher. That powerful combination was clearly too much for all her opponents as the La Jolla, Calif., resident captured the Girls 16 singles championship on Saturday afternoon with a 7-5, 6-0 victory over fellow San Diegan Julia Haynes on the Stadium Court at the Barnes Center in San Diego.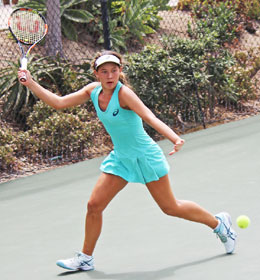 Mossmer powered through all of her matches without losing a set, dropping a total of only seven games in the first set against her first four opponents. But Mossmer turned out to be an exceptional finisher in Saturdays' final as the talented 16-year-old seized the final eight games to win the one-hour and 48-minute match going away.
"I was pleased with the way I served and the fact I didn't give up," the fourth-seeded Mossmer said moments after her victory. "On every point I was focused, and I played with a lot of heart today."
Haynes, seeded 17th, was the epitome of determination throughout the tournament, especially in her quarterfinal and semifinal matches. But in the final Mossmer's serve, power and variety turned out to be the difference.
The two players held serve through the first 10 games of the match, but at 5-5 and Haynes serving Mossmer was able to earn the break at 30 to take a 6-5 lead. She promptly served an ace on the first point of the 12th game and would go on to hold at love and grab the opening set.
Mossmer never let up after that, pulling out a long opening game of the second set en route to a 6-0 domination of Haynes in the second set.
"I served really well on the big points," said Mossmer, who was broken only a handful of times in the entire tournament. "When I got the break (to go up 6-5 in the first set) I tried to play to my strengths in that game, which is my serve and volleys."
Mossmer, who earned a wild card into the main draw of the U.S. Open Juniors next month in New York, admitted she was a little tentative in the early stages of the match.
"In the beginning I was playing her game," she said. "But then I figured out I needed to take more chances, come to the net and take time away from her."
Mossmer was unable to contain her joy of earning the automatic wild card into the U.S. Open juniors in New York.
"I am so excited, this has been my goal all year - to play in (that) tournament," Mossmer said.