College Feature
Texas Tennis Finally Has a Place to Call Home Again
by Rhiannon Potkey, 18 January 2018
John Mee could only imagine what a true home court advantage felt like in college tennis. The University of Texas senior had experienced it on the road, but never at his own school.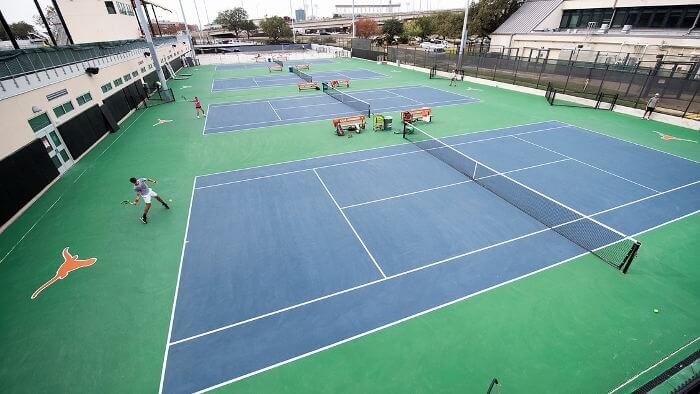 The year Mee arrived in Austin as a freshman, the tennis facility on campus was demolished to make way for a medical school.
The Texas tennis programs have been vagabonds for the last three seasons, playing home matches and practicing at public parks and country clubs in the area.
Hoping a new facility would be in place before he graduated, Mee got his wish.
The Longhorns are debuting the Texas Tennis Center this month, a gleaming 24,000-square foot facility featuring 12 outdoor courts and 1,500 seats with a reported price tag of around $18.5 million.
"It feels so much better to actually have a place I can call home after moving around so much in the past," said Mee, a Texas native. "I think the environment will be so much better with more people in the stands, and I think the energy is really going to help our team."
The No. 8-ranked Texas men's team will play the first dual matches at the new facility on Friday when the Longhorns host a doubleheader against University of Texas at San Antonio and Texas A&M-Corpus Christi.
The No. 12-ranked Texas women play their first matches at their new home on Saturday against Texas State and UT Rio Grande.
The university is holding a grand opening ceremony at the facility on Sunday at 1 p.m. CT before the men play Southern Methodist University at 2:30.
Texas is wasting no time showcasing what men's head coach Michael Center calls "the nicest outdoor facility in the country."
The Longhorns are hosting the Big 12 Conference Tournament in April, and a 75K USTA Challenger next fall. Texas plans to submit a bid to host the NCAA Championships when the next round of bids are accepted for dates beyond 2022.
"This facility is not only great for Texas, it's exciting for collegiate tennis," Center said. "Any time people invest in a facility like this, I think it protects our sport. That is the thing I feel really great about."