Where Are They Now?
Rose Continuing To Blossom In Pros
by Joey Dillon, 10 August 2016
While Oklahoma State University (OSU) stunned the college tennis world en route to a runner-up finish at the NCAA Championships, there was one player unsurprised and beaming with pride: Malika Rose. Rose was Head Coach Chris Young's first recruit at OSU and came to Stillwater in January 2010. Although she was only a 4-star recruit, she was ranked in the Top 25 of the 2009 recruiting class. "My recruiting process was not conventional. My parents and I weren't aware of the process and how to go about finding the right college for me," Rose said. She continued, "To coaches around the country, I was unknown - a wildcard."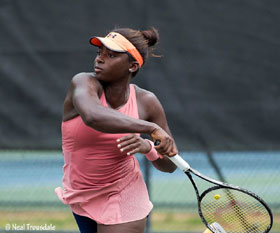 Former
OSU
Standout Malika Rose at the Mertz Aesthetics Women's Challenger 2015 in Raleigh
©
Neal Trousdale
The journey to Stillwater began in New York City, where Rose was born and began learning the game from her father Paul, a tennis pro. "I really owe all of my success to my Dad, who would teach me late at night or early in the morning, when I did - and sometimes didn't - want to play. Without him, I wouldn't have the experiences I've had." One of the highlights of Rose's time was participating as the kid participant in the Arthur Ashe Kid's Day at the 2002 US Open. In front of a home crowd, she participated in drills alongside top pros, including then (and current) World No.1 Serena Williams. "I was completely overwhelmed with emotion after completing the challenge on court alongside so many of my idols. There are so many moments from that day that I vividly remember." Rose would move to Florida that year to bring her tennis to the next level at the
Saviano High Performance Tennis Academy
, where she trained alongside future professionals Sloane Stephens, Mallory Burdette and Laura Robson among others. "Malika was my first friend in tennis. We've known each other since we were kids and we grew up together - she's like my sister," Stephens said.
Rose maintained a Top 60 ranking throughout her prep career while opting for online schooling to help balance her tennis schedule. A top player in Florida, Rose began to branch out in ITF Pro Circuit events her junior year, earning her first ranking points in 2009 when she defeated two Top 600 players. One match that helped Rose finalize her sights set on college was a 7-6, 6-7, 7-6 loss to Shelby Rogers, who made the Roland Garros quarterfinals this year. Young, then coaching at Wichita State, first watched Malika at that event and was "quickly intrigued" - pointing out her power and athleticism as things he remembered. "I took the job at OSU a week after I saw Malika for the first time, and I knew we needed her in our program."
On top of taking a semester off before going to school, Rose was relatively under-the-radar in the recruiting process.
Fresno State
and
Vanderbilt
reached out, but Rose knew the chances of an open slot were slim. "I was interested in going to a big-name university that had a large athletic program as well as respected academics." Fortunately, Young reached out a few weeks later - this time from an OSU email address. Armed with former WTA Top 50 pro Jamea Jackson as an assistant coach, Rose signed with the Cowgirls with hopes of pursuing a professional career after college. "(Chris) was eager to let me know that Jamea was joining the program. At the time, I had no interest of attending school so far away from home or in the Midwest, but that really grabbed my attention," Rose said.
Rose hopped into the lineup right away, starting at No.5 singles and playing Nos. 1-3 in doubles. While she had a winning record, Rose still struggled grasping the college tennis atmosphere. "(In juniors), each player has to develop the skills needed to be their own coach, positive voice, and motivator while competing. There is no point during a match where one can problem-solve with another person or teammate, but in college, all of that changes. Your coach comes and gives you advice whenever necessary, you have teammates cheering you on after points, the environment is loud and rowdy. It took a whole season to acclimate." Armed with a season under her belt, Rose earned a 16-6 ledger her sophomore season in the middle of the lineup, which included an 11-0 start to her season. She was also named to the Big 12 All-Academic Team for the first time. Rose would spend her summers playing professional events and earned the then-biggest win of her career before her junior year, upsetting No.391 Amra Sadikovic. The win would jumpstart her best season yet as a Cowgirl. "I was in a good place mentally after a great sophomore season, and then entering my junior year, our team dynamic was so strong. It helped me feel more comfortable not only as a Cowgirl, but as a leader for the team."