Where Are They Now?
Conversation with Two-Time NCAA Singles Champion Amber Liu Chang
by Todd Holcomb, 29 August 2016
Amber Liu Chang was a two-time NCAA singles champion and three-time team champion while at Stanford from 2002 to 2006.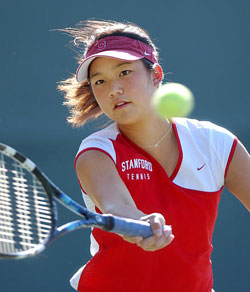 Former
Stanford
standout Amber Liu Chang
By now, she expected to be well-established in the business world. She did internships at Silver Lake Partners and Goldman Sachs, and she planned to apply to the Stanford Graduate School of Business once her playing days were done.
"If you had asked me during my time at Stanford if I would be where I am today - married with three kids by the age of 31 - I would have laughed," Liu Chang told TennisRecruiting.net. "I've always been a career woman."
But, plans change for a reason.
While on the WTA Tour, she was coached by Michael Chang, the ITF International Tennis Hall of Famer and former French Open champion. The two were engaged and married in 2008, not long after Chang's ITF induction.
Today, the Changs travel with their three young kids on the ATP Tour about 20 weeks a year as Michael is now the coach of top-10 touring pro Kei Nishikori.
Amber works in the family businesses, which includes a pizzeria, and helps run the Chang Family Foundation, a sports ministry outreach.
TennisRecruiting.net recently caught up with Liu Chang and asked her to reflect on her tennis career, give some advice to young players and talk about the joys of the life she did not anticipate.
Questions and Answers
Tennis Recruiting (TR): What was it like for you as a junior player during the recruiting process. What schools did you consider? How did you make your decision? Why did you ultimately choose Stanford? I believe your parents went to Stanford. That's interesting.
Amber Liu Chang (ALC): For me, it was always a goal of mine to go to a university that was strong in both academics and athletics, so naturally Stanford was one of my top choices. That, coupled with the fact that I'm from California, and both of my parents attended Stanford as undergraduates (as students, not athletes), made it a pretty easy decision for me. But I did also consider some Ivy League schools, due to their academics, and a few other PAC 12 programs.
TR: What advice/tips would you give to junior players today about recruiting? Any mistakes to avoid? Things to keep in mind?
ALC: It's important to do your research and be proactive. Understand where you want to go and why you want to go there. Take the initiative to reach out to prospective programs if they interest you. Have the perspective that junior tennis is an individual sport, but college tennis is a team sport, so it's important that you get along with your peers and are ready to be a team player. Lastly, it's important to be appreciative to the coaches and team for the opportunity to learn about their program.