Commitment Profile
Countdown: Van Alphen Stays Close to Home at USC
by Keith Kropp, 14 October 2016
The phrase "beginner's luck" is often tossed around to explain instances of surprising or unexpected success,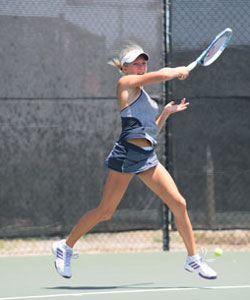 When
Sydney Van Alphen
first began to acquire tennis skills, her immediate success was not an instance of beginner's luck. It was clearly a case beginner's talent.
For a junior tennis player, the first tournament a player ever competes in can be an unsettling experience. Not for Van Alphen. Not only did she feel at ease on the court playing that first tournament, she won it.
Growing up in the Southern California town of Laguna Beach, the 17-year-old Van Alphen is now an accomplished junior. The 5-foot-6 blue-chip recruit recently made a verbal commitment to play college tennis for the University of Southern California starting next fall. She was only five when she was first interested in tennis, and a few years later, at 8 years old, she entered a tournament at Nellie Gail Ranch Tennis Club in Laguna Hills, Calif. It was round robin and co-ed.
"I know I played four opponents," Val Alphen recalled. "Two boys and two girls. After I won [the tournament] my dad (who had taught her the sport up until that time) got me a coach."
That coach turned out to be Phil Dent, the former touring professional in the 1970s who was once ranked No. 12 in the world - and who now devotes much of his time to coaching at the Dent Tennis Academy in Fountain Valley, Calif.
As far as recalling any other details about that first tournament, Van Alphen's memory is a little fuzzy. "I remember that it was a fun tournament, and because I won I instantly loved tennis," she said.
After her highly impressive tournament debut, Van Alphen would build on her success. Before coming to Dent she participated in a Vic Braden clinic, and the coaches there recognized her potential.
But Van Alphen greatly appreciates Dent's influence.