Player Advice
Shutting Off The Thinking Mind in Tennis
by Patrick Alban, 16 November 2016
Special from
SPMI
I'd like to introduce to everyone The Thinking Mind. Many junior players throughout the country feel and recognize its presence more and more as the college playing years creep up. You will often see players becoming tight in the presence of college coaches such as in showcases, tournaments, and college visits.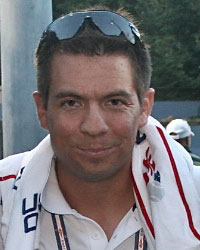 Many high school players develop a Thinking Mind due to their inability to cope with what I like to call, "college tennis deadline anxiety." If left untreated, players' performances often worsen throughout their most important years instead of flourishing.
Below are four tips to overcoming the Thinking Mind - so that you can take control of your thoughts in this critical stage of a player's tennis development.
Four Ways To Stop Over-Thinking
Identifying Triggers: After each match and practice, take ten minutes to identify when and what caused the fear. Write down those triggers, and next to them label them as either fear or danger. Many players will find that most of their overwhelming thoughts were due to fear.
Diaphragmatic Breathing: After identifying fearful thoughts, practice slow and deep breathing. Players may choose to listen to soft music while practicing their breathing to enhance the relaxation response.
Embracing Fear: Many players develop the bad habit of avoiding fearful situations like the plague. This habit - when reinforced - often results in choking and "ugly tennis." Players need to practice embracing fearful thoughts every time they recognize them. By embracing the fear, players are teaching themselves to go after pressure. This technique will help players improve their performance - especially in tough moments.
Practice Paying Attention to the Present:
Learning how to stay in the present for longer periods of time helps athletes take control of the thinking mind and keep thoughts to a minimum. One technique players can practice is to pay attention to the taste of their food with each bite. Try to notice slight changes in taste, texture, temperature, and consistency. By practicing this skill, tennis players will develop a deeper understanding of the present moment while controlling distracting thoughts on and off the court.
Add these techniques to your training and be patient with the results. In fact, the less focused the player is on the results, the faster they will see improvement.
Patrick Albán, B.S, M.S., is Director of Mental Training at SPMI, Cañas Tennis Academy, and Rick Macci Tennis Academy. Albán has trained hundreds of tennis players throughout the world, helping them maximize their mental game and achieve their goals in tennis and in life. You can reach him at (786) 350-1554 - or check out his website.
Leave a Comment
More Player Advice
4-Oct-2017
Brandi: Things To Consider In The College Decision
As players begin making their college decisions, LSU co-head men's coach Andy Brandi provides a list of considerations and questions they should ask before committing to a school. Find out what to ask and who should be asking the questions.
14-Sep-2017
Why My College Roommate Did Not Fail As A Player
Dave Mullins is back with a column discussing the methods and approach his college teammate and roommate at Fresno State, Peter Luczak, used to have a successful career on the professional tour.
10-Jul-2017
Talking Tennis Injuries and Injury Prevention with Dr. David Geier
Injuries play a major role in the sport of tennis. Dr. David Geier is well versed in the sport of tennis; he served as tournament doctor for the WTA Tour event in Charleston for several years. Geier gives some tips, not only for junior tennis players that are 12 and under, but also for that 13-17 year-old age group that might be looking to play tennis at elite levels.