Special from
Zoo Tennis
MOBILE, Ala. - The fifth edition of the USTA National Spring Team Championships this week had plenty of players and coaches returning for the popular event. Yet after four days of matches, it was rookie coaches who led their teams to titles, with the Titans winning on the boys side and the Stingrays capturing the girls crown.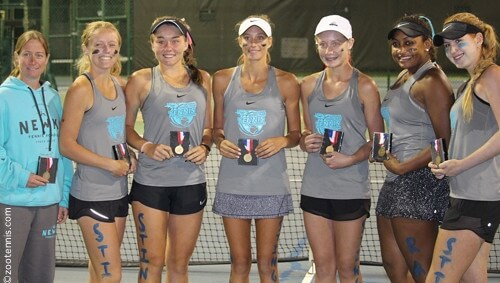 The Stingrays Won The Girls USTA Spring Team Title
©
Zoo Tennis
The tournament has been through several format changes, but the 2018 event mirrored last year's, with players from 14s, 16s and 18s selected via the waterfall method to 16 teams just two days before competition began. Players are assigned a junior development coach, selected by the USTA, then participate in one day of practice and team building before taking the court for the first of four matches in a compass draw. As with Division I college tennis, one point is awarded to the team that wins two of three doubles matches, then six singles matches are played, each worth one point, with a No. 1 and No. 2 player from each of the three age divisions.