Recruiting Feature
Fall Signing Week '16: National Roundup
by Blair Henley, 8 November 2016
Signing Week has arrived! As senior players begin signing National Letters of Intent with Division I and Division II schools, we are covering all the action. In addition to tracking verbal commitments for several months (boys, girls), you can find live commitment announcements from a number of highly recruited boys and girls on the site this week.
First, let's check in with a group of select seniors from around the country as they prepare to sign NLIs during the fall signing period, which officially begins tomorrow. Find out their schools of choice and which factors proved pivotal in their decisions.
Here are the athletes we interviewed:
Here's a look at what they had to say ...
Drew Singerman (Louisville, Ky.) to Furman
It's a good thing Drew Singerman is headed to play Division I tennis at Furman next fall - he is running out of room on his high school résumé. The five-star senior is the top player in Kentucky and was named Kentucky's Junior Player of the Year in 2015. This spring he led the St. Xavier high school team to a state championship and captured the state singles crown, earning him the title of Metro Louisville Boys' Tennis Player of the Year. Singerman, who is also in the top five percent in his high school class, found the perfect place to continue his noteworthy athletic and academic career at Furman's Greenville, South Carolina, campus.
Congratulations on your commitment to Furman! How did you make your final decision?
Furman checked all of my college boxes: great coaches, great teammates, great tennis, excellent academics and not too far away. I took an unofficial visit last spring during a tournament that was hosted on the campus, and then I took my official visit at the beginning of this school year. Both of these visits gave me a lot of insight into how the team works, the different class offerings and what Furman is all about - I highly recommend official visits.
What is the team like?
I am actually good buddies with a current freshman that I met during Southern tournaments. I stayed with him during my official visit and spent a lot of time with the rest of the team. The guys made me feel like I was part of the team, and I was only with them for a couple of days.
Do you have any goals for your freshman year?
I want to improve my game while maintaining a high GPA. I am looking forward to getting out on the courts every day for practice and competing with my teammates. Another goal of mine is to get adjusted to the college life quickly so that I can better manage my time.
Do you have any takeaways from your junior tennis experience?
I'm about to start my fourth season of high school tennis. In addition to teaching me how to be a leader, it has shown me that it's not all about winning. Sometimes it's about pumping up my teammates after a tough loss or getting the team riled up for a big match.
What has the sport of tennis meant to you?
I greatly appreciate the opportunities that have been given to me to play tennis. My parents have dedicated so much so that I can be successful on and off the court. Tennis is a lifelong sport, and I look forward to every chance I get to play it.
Claire Handa (Rockville Centre, N.Y.) to Chicago
Four-star senior Claire Handa got her first taste of team tennis this fall when she joined the Friends Academy squad as a senior. "I loved it. If I could go back, I would've done it for four years," she told Newsday.com. She may have gotten a late start with her high school team, but Handa has the next four years to look forward to as she prepares to play for the University of Chicago. A top-10 junior in her home state of New York, she kept an open mind during the recruiting process, considering Division I, Division III and even Ivy League schools before settling on Chicago's unique combination of academics, athletics and culture.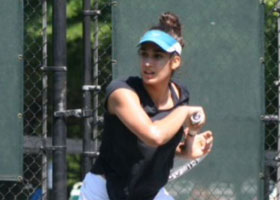 Given your wide range of possibilities, what were the primary factors in your decision?
Coming from a small high school, I knew a small or medium-sized, rigorous undergraduate program would fit me best. I also knew I wanted diversity. Whether political, cultural or ethnic, I wanted to be surrounded by different perspectives that can influence and inspire me. I also wanted to be on a team where the members felt united and spoke highly of their coach and their experiences.
Did you take an official or unofficial visit?
I took many invited unofficial visits to different types of schools throughout my junior year. Most of these visits consisted of attending classes, eating a couple of meals with the team, watching practice and conditioning, touring the campus and spending time with the coaches. Though I had many offers, I decided I'd wait until the end of the summer to commit. At the end of August, I took an unofficial visit to UChicago and spent the day with Coach [Jay] Tee and one of his players. I was really impressed with how enthusiastic they both were about all aspects of life at UChicago and their excitement for the team. The prestige and caliber of UChicago was in itself extraordinarily impressive, and I feel honored to partake in it.
What do you like most about the University of Chicago program?
I really like that the men's and women's teams are both led by Coach Tee, and they work to strengthen and encourage each other. The closeness between the two teams builds a great support system for all of the players on and off of the court.
Do you have goals or expectations for your freshman year?
I expect to be stressed with the amount of work I'll have during my freshman year. I also expect to have a really great support system from my classmates and teammates to help with my transition from high school to college. My goal would probably be to give 100 percent and contribute as much as I can to the team. I'm really excited to become a Maroon!