College Feature
Quick Restart: Bradley Klahn Returns to ATP Tour
by
Colette Lewis
, 18 November 2016
At some point during his 21 months away from the game, 2010 NCAA singles champion Bradley Klahn was forced to consider a career that did not include tennis. The 26-year-old Southern Californian, who had reached No. 63 in the ATP rankings early in 2014, last played a professional tournament in February of 2015. The same back injury that had required surgery while he was completing his degree at Stanford had resurfaced, putting in doubt his future in the pro game.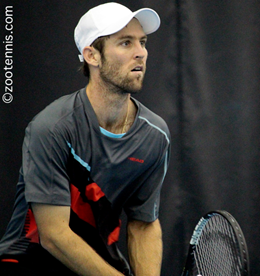 A second surgery, similar to the first, followed, but a variety of complications in its aftermath gave Klahn the opportunity to look at the many options a degree in economics from Stanford provides. Yet the thought of walking away from the sport proved more painful than undertaking a long rehabilitation, and this week Klahn saw that determination rewarded at the ATP Challenger in Champaign Illinois.
The 6-foot left-hander received a wild card into the qualifying of the $50,000 event and three wins later had earned his way into the main draw, where he defeated No. 5 seed Sam Groth of Australia and Tennys Sandgren before falling to top seed Jared Donaldson in the quarterfinals.
I spoke with the Los Angeles resident about his return to competition, how he stayed motivated and occupied during his rehabilitation, his competition and training schedule, and several other topics during this interview Tuesday.
Questions and Answers
Colette Lewis (CL): Did you anticipate having this kind of success so soon?
Bradley Klahn (BK): I didn't, and I still don't, have any expectations for this tournament, or for any of these tournaments. I feel very confident in the work I've put in, and obviously, with the back, really put an emphasis on strength and conditioning, getting myself in the best shape possible.
I've done a lot of good work on and off the court, and trusting that, and coming out here and competing - I don't have a ranking, so these last few tournaments are about getting my feet wet, getting matches in and getting the feel for tournaments back, getting a feel for being on the road again. I don't know if I'm surprised. I'm just putting an emphasis on going out and competing each match. I know it's really a cliché, the one-day-at-a-time thing, but I'm starting to get it. I feel it's more true for me now than at other times. And it's working so far.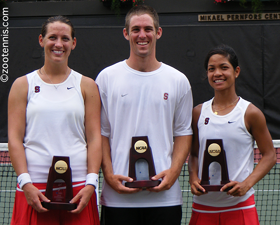 CL: Did you have any practice results that might have indicated you were at this level?
BK: I play practice sets with some of the guys when they come through Carson (the USTA's West Coast training center). It's more just a feel with my game and how strong I feel on court. You're never going to be fully ready for your first tournament, I think, but I'm fortunate I felt about as ready as I could have been. I took an extra week, skipped Knoxville (another $50,000 ATP Challenger), came here early to get used to the indoors, and I felt ready. As I said, I don't have any expectations about anything, and I just go from there.