Special from
Zoo Tennis
INDIAN WELLS, Calif. - The 2018 Easter Bowl 16s champions started the tournament with contrasting expectations. Top seed Keshav Chopra was a favorite to win his second consecutive USTA National singles title, while Anessa Lee was just hoping to reach the third round.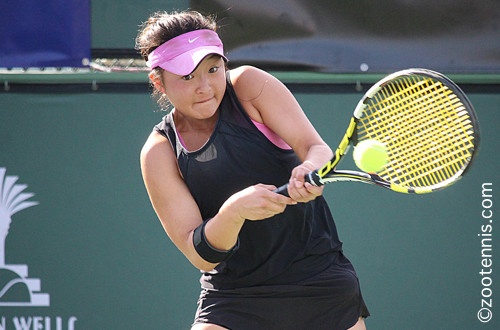 Easter Bowl Girls 16s Champion Anessa Lee
©
Zoo Tennis
Yet it was Chopra who was forced to win tough match after tough match to advance to the championship match, while Lee dropped only one set in reaching her first National Level 1 final, although she had a rocky start in the opening round.
"I just wanted to live up to my seeding, which was the round of 16," said the 11th-seeded Lee, who defeated unseeded India Houghton 6-2, 6-3 in the championship match Saturday morning at the Indian Wells Tennis Garden. "When I reached there, I thought, that's good. The first round was pretty tough; I started the tournament down 4-0 in the first set."
Lee was able to overcome the nerves that were bound to surface in her first National singles final, which had all the trappings of a professional event: ballrunners, fans, an on-court announcer and live streaming.
"At first, the ball kids kind of threw me off and I got a little nervous," said the 16-year-old Lee from San Marino, California. "But after a couple of games I got used to it, got the nerves out."