Special Announcement
2017 USTA National Junior Competitive Structure
by USTA, 14 December 2016
Significant revisions have been approved by the USTA Junior Competition Committee to the national junior competitive structure that will become effective on January 1, 2017. These revisions are built upon the foundation of our existing tournament structure and the valuable input of the Sectional Associations, maximizing the finest of our current events, but also making modifications that will broaden the competition landscape in a number of important ways.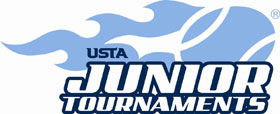 USTA National Standing List ("Points Counting Up")
Beginning January 1, 2017, the singles and doubles results for each player earned in a division for the previous 12-month period shall also be counted as results in the next-older division at 20%. Counting Points Up works similarly to the way that we currently Count Points Down. The differences are:
Points Count Up only one division (Points Count Down to all divisions)
Points Count Up at 20% (Points Count Down at 100%)
Points Count Up even if the player has no results in the older division (Points Count Down to a younger division only when a player has an on-court win in the younger division).
As a result of ranking points counting up, the selection of players from the next younger age division for USTA Level 2 tournament will be eliminated.
New Tournaments Introduced for 2017
Several new events have been included on the schedule to meet the evolving needs of America's junior tennis players. These include:
USTA National Indoor Championships, to be held in late November in recognition of the prevalence and importance of indoor play.
USTA National Spring Championships as a National Level 1 Gold Ball tournament. For many years the "Easter Bowl" has been one of the strongest tournaments on the national schedule, and this designation returns the event to the highest-level national ranking status. The BG18 tournament will continue to be an ITF tournament, governed by ITF Regulations, but the top finishers will receive Gold, Silver, and Bronze Balls.
USTA National Level 3 Tournaments, which will be sanctioned up to 6 times per year in each division. One or more tournaments will be held during these date blocks with up to 192 total draw spot offerings in each division.
Split of USTA National Spring Team Championships, creating a separate tournament for 18/16/14 division players and 12 division players. Both events will have a tournament format that mirrors the college tennis dual match format.
New Selection Processes for USTA National Championships
The new selection process seeks to have a better balance to both encourage Sectional play, but also to value L2 and L3 national play. To that end new selection processes have been put in place for 2017 that includes the re-introduction of the NSL and qualifiers from National Level 2 Tournaments as a pathway directly into National Championships. This process allows for more scheduling flexibility for players (and families).
Elimination of Concurrent National Tournaments
The Open and Closed USTA Regional Tournaments have been eliminated from the 2017 schedule and have effectively been replaced by USTA National Level 3 Tournaments that are held on weekends that have no other concurrent national tournaments.
New Locations
There will be both new and familiar locations for national tournaments throughout 2017. Some notable changes include consolidating the location for the boys' 12s and 14s National Championships, which will be held in Mobile, AL, and the boys' and girls' 16s and 18s Winter Nationals, which are moving to the USTA National Campus in Orlando, FL.
For more detailed information, please visit our website: www.usta.com/juniorcompetition
Leave a Comment
More Special Features
8-Oct-2017
ImRecruitable College Tennis Showcase
ImRecruitable will host its 6th Annual College Tennis Showcase November 29 and 30. This unique event combines instruction from college coaches as well as showcase match play. Our showcase will help you gain maximum exposure to college coaches. In addition, get education from coaches and experts.
7-Oct-2017
Sanchez-Casal International Junior Cup
The Sanchez-Casal International Winter Junior Cup in Naples, Fla., is a global event for US and international tennis players that will provide a unique experience, at one of the best world-class tennis training academies in the world.
29-Sep-2017
Q&A: New USTA Head of Men's Tennis Brian Boland
After 16 years as head coach of the University of Virginia men's program, Brian Boland left Charlottesville in March to become the USTA's head of men's tennis. Boland sat down with Colette Lewis of Zoo Tennis during the U.S. Open to discuss the changes he's introduced at the USTA, his goals for American men's tennis, the viability of the college tennis pathway and much more.