Commitment Profile
Top Ten Senior Stephanie Schrage Commits to Princeton
by
Ali Jones
, 12 December 2016
Blue chip athlete Stephanie Schrage has consistently ranked number one in the USTA Girls Eastern Section in the 12s, 14s, 16s and 18s divisions, but she lists high school tennis success as one of her favorite accomplishments. That is rare coming from a girl ranked among the top 10 seniors nationally.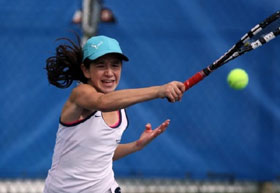 "Being on a high school team means you're a part of something that's bigger than one person, and you always want to do whatever you can to help your team," said the 17-year-old senior.
Despite going to an academically rigorous school, taking AP courses and maintaining a 3.99 GPA (on a 4.0 scale), Schrage has played a full schedule of tournaments and counts winning two Girls 18s National Selection Tournaments among her many titles.
Her path to topnotch academics and tennis continues in Fall 2017, as she has verbally committed to Princeton University to play for the Tigers and Head Coach Laura Granville.
"Princeton has the combination of tennis and academics that I am looking for - challenging me and allowing me to excel in both areas," explained the three-time All-American. Her interests include English, writing, government and psychology, and she plans to find a major that will mesh those areas. "As far as tennis, I know Coach Granville and Coach [Elizabeth] Begley will help me grow as a player and a competitor."
Schrage also seriously considered Harvard, Dartmouth and Michigan, but the Princeton campus itself, which Schrage visited three times, was a big factor in her decision.
"I like the location and atmosphere," she added. "The location is outside a big city, close to where I live, and the campus has a sense of community. The atmosphere was such that I could envision myself there."