Commitment Profile
Michigan Bound: Jones to Join Wolverines
by Blair Henley, 21 December 2016
Alyvia Jones had been working with her coach Mike Flowers for just a few months when he took a new position at a tennis club in Lansing, Michigan - over an hour and a half away from her home in Midland.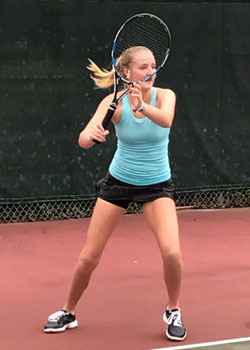 Not even 12 years old at the time, it was easy to assume the promising junior would simply find another coach closer to home. But that would be underestimating the commitment level of the entire Jones family. Instead, they determined the new partnership was worth continuing despite the distance.
"I know how hard it would be for me and my family to make that drive almost every day," Coach Flowers said. "I was surprised [at the Jones' decision] but happy."
Nearly five years later, it's clear their sacrifice, and the countless added miles on the family cars, paid off. At 16 years old, Jones is one of the top players in the country, achieving a career-high class ranking of No. 6 earlier this year. The Blue Chip prospect has come a long way from her first tennis lesson as a shy 3-year-old.
"I'm still shy when it comes to meeting new people, but I'm not shy on the court," Jones admits. "I can get in peoples faces. I'm not going to let someone bully me around."
Soft spoken but fiercely competitive, Jones let her racket do the talking. She won her first national title as an 8-year-old at the prestigious Little Mo tournament in Austin, Texas, racking up eight more by age 12. Since then Jones has worked diligently to add aggression to her trademark consistency, taking advantage of her strong forehand and serve. Her transition to full-time online schooling as a sophomore allowed for added attention to her training routine, all of which made her a highly sought after commodity.
"The [recruiting process] was fun, but there were a lot of colleges contacting you that you had to get back to. I'm pretty sure I responded to everyone - I hope I did." Jones said, laughing.
She started seriously considering her college options in January of her sophomore year, taking unofficial visits to Ohio State, Alabama, LSU and Michigan. Despite her family's recent move to Baton Rouge, Louisiana, Jones found the perfect fit back in her home state, committing to join the Wolverines in the fall of 2018. Led by coach Ronni Bernstein, the team finished last season at No. 11 in the ITA college rankings.
"I love that they have great academics and a team that is highly ranked," Jones said. "It would be nice to get a national championship, but it's great that they are competitive with everyone."