Special Feature
Don't Pass on Playing in a Pro Am
by Rick Limpert, 7 December 2016
While it may not possess the prestige of playing in a national tournament or the pressure of playing in a high school state tournament final, one of the most important matches you might play in could be in a pro am. While it might seem trivial in that it is only put on by a local club, it can offer a unique chance to make a lasting friendship - or to catch the eye of a college tennis coach.
What exactly is a pro am?
Pro Am (adjective or noun)- a sports event involving both professionals and amateurs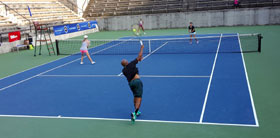 Taking a cue from the golf world, tennis pro am events are popping up from coast to coast as part of existing tournaments or stand-alone events created to generate publicity, promote a product or property or even benefit a charitable organization.
For the junior or player heading off to college, participation in a pro am can have benefits that players just heading back to their hotel rooms don't realize.
See How Your Game Stacks Up
Many USTA Pro Circuit, ATP World Tour and WTA events have one or more pro ams during the tournament week, and there usually is a need for players - sometimes at the last minute. To reward sponsors or the host facility, most pro ams feature some top players. Junior players, filling either the "pro" or amateur spots, have a chance to match up with players who have high world rankings in a relaxed and informal environment.
"His forehand generated good pace, but it was no harder than mine, especially when hit cross-court," explained one junior player after matching wits with a top-150 player at a Pro Circuit pro am this summer.