by TennisRecruiting.net, 25 January 2017
The USTA Collegiate Division recently announced new NCAA Division I Men's and Women's College Tennis Top 25 Polls which kick off early next month. Every Wednesday morning throughout the college tennis season, the USTA will publish Top 25 lists based on votes from a panel of college tennis experts.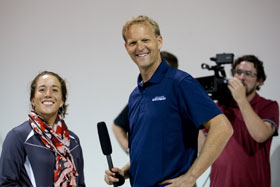 We are excited about this new addition to the college tennis landscape. To find out more, we sat down with Scott Treibly, a long-time college tennis enthusiast who has been involved with college tennis as a college player, as a college coach, as a college placement director at IMG Academy, and now as a consultant with the USTA.
Learn more about this exciting new effort - how it works and its goals - in our conversation below ...
Questions and Answers
Tennis Recruiting (TR): Thanks for taking the time to talk with us. To level-set for our readers, can you describe the USTA College Tennis Top 25? How does it work?
Scott Treibly (ST): The USTA College Tennis Top 25 has nine voting members and will produce weekly rankings from February 8 through the end of the season. All voting members will submit their rankings on Tuesday, and we will release our rankings on Wednesday between 10am and noon Eastern.
The rankings will reflect the Top 25 men's and women's NCAA Division I college tennis programs. In addition to the Top 25, we will also list teams receiving votes.
TR: How did you select the voters involved with this poll?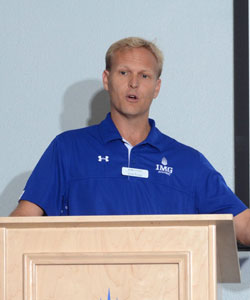 College tennis evangelist Scott Treibly was a catalyst for the new USTA poll
ST:
We put a together a panel of voters who have in-depth knowledge of collegiate tennis. We did not choose D-I coaches in the inaugural season because voting weekly can be time consuming with the amount of data that is available. In the future, we see athletic directors, coaches and retired coaches possibly being involved, like they are for the football polls and rankings.
TR: The poll is sponsored by the USTA Collegiate Division. Can you describe the Collegiate Division and its mission?
ST: The mission of the collegiate group is to promote collegiate tennis on all levels. We want to make college tennis matches more into events. College MatchDay at the Home of American Tennis is going to be played at night, have a tailgate and put the matches on ESPN3. We want programs all over the country to promote and elevate their products too. College tennis is exciting and we want to bring it into the mainstream of collegiate athletics.
TR: What are your specific goals for the Top 25 Poll?
ST: We want people talking about college tennis matches, the coaches and the players. For years, the ITA has done a great job with their rankings at all levels - D-I, D-II, D-III, NAIA and JUCO. The USTA College Tennis Top 25 is just for Division I.
We hope to help create more interest and conversation about college tennis this spring.
TR: This sounds like a fun addition to the college tennis landscape. It also sounds like a first step. What do you think the future holds for these rankings?
ST:
We are so excited to launch the USTA Division I men's and women's Top 25 poll and cannot wait for feedback from collegiate tennis fans all over the world. We will engage the media so at the end of the season we have followers that want to attend and report on conference and NCAA Championships.
In terms of any additional building blocks, we would like to continue to add knowledgeable voters to the panel - especially if they can help us promote college tennis.
About K-Swiss
College Content at TennisRecruiting.net is sponsored by K-Swiss.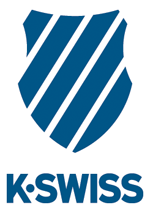 At K-Swiss we are 100% invested in the sport of Tennis and committed to helping players play their very best and win at every level. From a competitive junior or adult player to the greatest doubles team of all-time, Mike and Bob Bryan. For over 50 years we have been making some of the most innovative, high quality tennis footwear in the game featuring the very best in comfort with a consistent fit.
We encourage you to try the K-Swiss shoe that is best for your game.
Connect with K-Swiss on Facebook, Twitter, and YouTube - or on their website.
Leave a Comment
More College Coverage
1-Aug-2017
Thompson Twins Double As Head Coaches
After forming a strong doubles team at Notre Dame, twins Christian and Catrina Thompson are now Division I women's head coaches. Christian is in her fifth season at Denver and Catrina was recently hired to lead Minnesota.
11-Jul-2017
Swain Jumps from D3 to USC
After presiding over a Division III tennis dynasty at Williams College, Alison Swain was named the head women's coach at USC. Her rare jump from Division III to a major Division I program is being tracked by many across the country.
7-Jul-2017
Tennessee Coaches Share VFL Bond
Former Tennessee players Chris Woodruff and Alison Ojeda have returned to their alma mater to take their first head coaching jobs. The two have formed a tight bond that extends to their teams as they attempt to build the programs back into national contenders again.