Tournament Summary
Unseeded Volynets and Sun Capture Metropolia Orange Bowl 16s Titles
by
Colette Lewis
, 16 December 2016
A rainy day didn't keep Katie Volynets from making history at the Metropolia Orange Bowl last Saturday, while Steven Sun won a dramatic final to take the boys title, giving the United States a sweep of the 16s singles championships at the Veltri Tennis Center in Plantation Florida.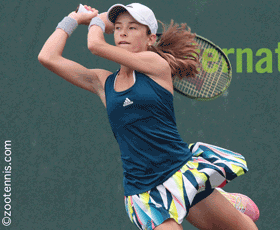 Volynets, who won the
Eddie Herr 16s title
, is the first girl to win both titles in the same year according to Eddie Herr records, which date back to 1993. And the 14-year-old did it without the benefit of a seed and without dropping a set.
After a second round win over No. 13 seed Victoria Hu, whom Volynets defeated for the Eddie Herr title, Volynets faced her toughest match of the week against No. 2 seed Oana Corneanu of Romania, who took her to two tiebreakers. Wins over Americans Elvina Kalieva and Angelica Blake put Volynets in the final, where she faced the only seed to advance to the quarterfinals, No. 14 Imani Graham, another American.
Graham did not face a seed in her five matches leading to the final, with straight-sets wins over wild card Nikki Redelijk of the United States and qualifier Arabella Koller of Austria giving her the opportunity to stop the streaking Volynets.
Volynets held off Graham 6-4, 6-3, but by the time the final finished under the lights, after nearly six hours of waiting, Volynets had been tested, both physically and mentally.
Volynets, whose reputation for focus and composure is well established, said the long wait to take the court did have an impact on her.
"It was difficult for me to wait, because I was so excited to go and play," said the Walnut Creek California resident. "All of a sudden, when I had to wait, I got a little bit more tight, and all this waiting, I didn't even know if I was going to go on today. All of a sudden I go on, and I'm like, whoa, I'm on the court. It was kind of hard."