Commitment Profile
Blue Chip Zink Mindful of Commitment to Georgia
by Rhiannon Potkey, 30 May 2018
Tyler Zink is always open to suggestions to help improve his performance. Rather than being afraid of change, he's willing to embrace it to gain an extra edge.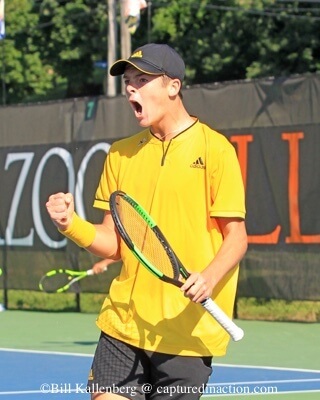 Zink has recently taken up meditation. The blue chip junior uses the Headspace app to achieve mindfulness and remove distractions from his life.
"It allows him to take some pressure off and find some perspective," said Zink's father, George. "He doesn't need to worry about what happened in the past or where he is ranked. He is just focused on what is going on right now in the present."
Zink has spent the last few months contemplating his college decision. The Lakewood Ranch, Florida resident recently committed to Georgia to play for head coach Manny Diaz and assistant coach Jamie Hunt.
"My goal is to become a professional tennis player and I was definitely looking at the schools where I can accomplish that," said Zink, who also considered Florida. "I felt like Manny Diaz and Jamie were two coaches that were able to get me there. I felt Georgia was the right decision and I'm happy about it."
Diaz was the coach Zink saw the most at his matches over the last 18 months. He frequently corresponded with the Georgia staff about his results.
"I think Manny and Jamie really showed us the plan of how they could help Tyler use college as a steppingstone into professional tennis," George Zink said. "Tyler made the decision 100 percent. I wanted him to visit a few more colleges and get more information, but he knew Georgia was where he wanted to go. It was very clear it was the school for him."