College Feature
Catching up with Virginia's Julia Elbaba
by
Colette Lewis
, 10 February 2017
Less than two months into her career at the University of Virginia, Julia Elbaba reached the final at the Intercollegiate Tennis Association Riviera All-American Championships, her first appearance in a major. The ITA National Rookie of the Year in 2013, Elbaba went on to claim the 2014 ITA Indoor Intercollegiate Championships at the USTA Billie Jean King Tennis Center, the same courts that serve as her fulltime training center now. By the end of her senior year, the 22-year-old New Yorker was a four-time All-American and the recipient of the ITA's prestigious Cissie Leary Sportsmanship award.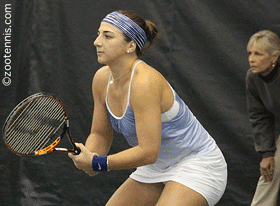 After graduating this past summer with a degree in Media Studies, Elbaba has embarked on a pro career, with an appearance in the final of the $25,000 USTA Pro Circuit event in Landisville Pennsylvania last August her best result to date. Currently a career-high 470 in the WTA rankings, Elbaba recently reached the final round of singles qualifying and the doubles quarterfinals at the $100,000 USTA Pro Circuit's
Dow Tennis Classic
in Midland, Michigan.
I spoke with Elbaba in Midland about her off-season, competing full time on the USTA Pro Circuit, how she has benefitted from college tennis on and off the court, and her goals for 2017, among other topics.
Questions and Answers
Colette Lewis (CL): What was your offseason like?
Julia Elbaba (JE): I thought 2016 was going to be 'Let's get my feet wet a little bit - let's feel what it's like playing pro.' I'm still obviously learning to this day, and I'm going to keep learning for many years to come, but I feel so much more educated now than I did in the fall - with the routine, with the training, with the tournaments, competing, playing, everything.
My preseason - I was really happy with it. I did hard fitness, just fitness, for the first few weeks. My preseason buddy was Jennifer Elie, and it was us two. We had a fitness trainer and [USTA National Coach] Jay Devashetty, my coach. The four of us really killed it for the four to five weeks, so it gave me a lot of confidence.
CL: How did the first month of 2017 go for you?
Elbaba is climbing up the WTA rankings
©
Zoo Tennis
JE:
I went to Florida [for two $25,000 USTA Pro Circuit tournaments]. I'm not going to lie, I don't have too much clay experience. That's one of the downfalls of college tennis, you don't get to practice on clay. Not making any excuses, but I definitely need to improve my clay court game. I trained really hard after that up in New York, again indoor hard court, and I came here and I'm feeling the ball well.