Player Advice
Why I Failed as a Tennis Player
by Dave Mullins, 31 May 2017
Special from
DaveMullinsTennis.com
January, 2003: I'm sitting on a Cliffside, overlooking the east coast of Australia, contemplating my future as a tennis player. I just battled through four rounds of qualifying to make it to the first round of a futures event. Today, I was up a set, 5-4 40-0 and lost in three sets against the 4th seed. My elbow is throbbing, my back is bothering me and my first round losers paycheck will only cover two nights of hotel bills. Is this really worth it??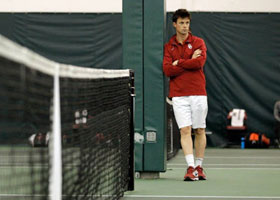 We love to read the success stories of the greatest players in the world. We learn about the ups and downs they endured along the way, and we love that they eventually made it to the top.
However, we rarely look at those who did not achieve the same level of success in their chosen area of excellence and try to dissect why. I think we could learn a lot from these stories, too. What if we could avoid the mistakes these "average" people made while still aspiring for that top tier of excellence? If we aspire to be "great," of course we need to understand how the elite reached that level of excellence, but we must also understand why so many others fail along the way.
Admittedly, I had a very below average professional tennis career, and I don't feel bad about it one bit. In fact, I don't think you can call it a professional career as I was very much in the red throughout it! I don't have any regrets or think that I could have raised the Wimbledon Trophy one day - if only I had just worked that bit harder and ate more spinach! I believe if all the stars aligned, and I committed to a professional career for about 5-7 years, perhaps I could have reached about 300 in the ATP singles rankings and top 150 in the ATP doubles rankings. Instead, I played for about six months and reached a career high of 943! During that time, I spent about $25,000 and made roughly $11,000 (thanks mostly to money tournaments without ranking points).
The reality is, even if I had reached a ranking of 300 in the world, I would not have fared much better financially. Whether I was 300 or 1200, I would still be struggling to play in the events I dreamed of when I first started competing in the sport. There is absolutely nothing wrong with staying out on the tour for years if you love the lifestyle and are still very passionate about training and competition. It's an expensive passion, but if it is financially feasible for you, then why not? I am all about doing what you love!
However, I made a lot of mistakes along the way. Here are a few of the lessons I want to share with young players who have the same dreams I had as a young teen.
(1) MENTAL
Care about what other people think and you will always be their prisoner.
- Lao Tzu
People don't care about your results and performances as much as you think they do. Playing an individual sport, we tend to be somewhat narcissistic and think that everyone is watching us. In truth, they are watching two people and where the ball is going, then they look at their smartphones between points. They cheer, they clap, they judge, but at the end of the day, they go home to their own lives, their own problems, their own passions. They don't really care all that much about who won or lost - or who is playing well or not improving. I know as a young tennis player I would get so consumed and worried about what other people thought of my performances for all sorts of reasons. Instead, I should have been spending that time and energy critically evaluating my own performance and what I could learn from it in order to apply it to my next match. Instead, I was overly concerned about pleasing others.
But, Coach Mullins, what about my parents, my coach and my best friend, Mike, don't they care? Yes, they care, but not as much as you probably believe.
If you have overbearing parents, an intense coach or a buddy named Mike that appears to care a little too much, it is probably more of a reflection of their own issues in life and far less about yours. Again, they are likely to be more consumed with their own image - and how your tennis is impacting their precious place in this world - than with you! Your tennis performances have nothing to do with who you are as person. Learn to separate the two.