Recruiting Feature
Spring Signing Week '17: National Roundup
by Blair Henley, 11 April 2017
Signing Week is here again! We are covering all the action as seniors begin signing National Letters of Intent with Division I and Division II schools. In addition to tracking verbal commitments for several months (boys, girls), you can find live commitment announcements from a number of highly recruited players on the site this week.
First, let's check in with a group of select seniors from around the country as they prepare for college tennis this fall. Find out their schools of choice - and which factors proved pivotal in their decisions.
Here are the athletes we interviewed:
Here's a look at what they had to say ...
Sebastian Mermersky (Washington, D.C.) to Liberty
It's no surprise Novak Djokovic is Sebastian Mermersky's favorite player. Like the superstar Serb, the five-star senior plays a busy schedule and racks up plenty of wins. He's also used to being No. 1, rising to the top spot in the Mid-Atlantic section in every age group in which he has competed. The best player in Washington, D.C., Memersky has played a heavy ITF schedule, capturing one singles and four doubles titles.
He will be taking his talents to the Liberty University campus in nearby Lynchburg, Virginia, this fall, and he has a clear goal in mind: "I want to play No. 1 for Liberty and win all my matches, not just to feel good about myself, but also to help Liberty win a conference title."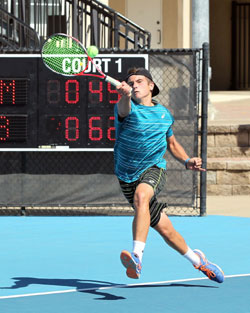 How did you end up deciding on Liberty?
Familiarity with one of the players (Chase Burton) as well as Coach Chris Johnson definitely played a role in my decision. My personal coach, David Kwon, played for Liberty and Coach Johnson, so that was also a major factor in my decision.
What do you like most about the school?
Liberty U. is definitely the right size for me, and the range of major fields of study is attractive. I would like to study aeronautics, and Liberty's curriculum offers that. Liberty is also pretty close to home, allowing my parents to watch some of my matches. My dad and my mom have been great supporters of my tennis, so being able to watch me play was a factor as well. Cook Tennis Center is a great facility, too.
What interactions did you have with the Liberty coaches?
Both men's coaches, Chris Johnson and Rich Benson, have watched me play in tournaments. Coach Johnson was so nice to fly from Virginia to Winter Nationals in Arizona over Christmas last December just to watch me play my quarterfinal match in singles. Thankfully I won that match against a player who already plays Division I tennis.
What do you like about the team?
Liberty's No. 1 player is a great friend of mine, and a former doubles partner. I look forward to taking his No. 1 spot on the roster. I'm kidding, but I am serious at the same time. All Liberty players were very welcoming and willing to show me around campus.
What are some of your hobbies off the court?
My extracurricular activities involve building and flying radio controlled airplanes and drones, as well as tuning and riding motorcycles.
I understand that you also have a twin sister who plays tennis.
Yes! My sister, Isabella Mermersky is ranked in the Top 200 and is the top-ranked senior in the DC area. She has been competing in both ITF and USTA tournaments - and she plans on signing her NLI this coming week with Palm Beach Atlantic.
Rachel Cross (Charlottesville, Va.) to Williams
Rachel Cross grew up near the bustling University of Virginia campus, but when it came time for the four-star recruit to choose a tennis program, she thought a smaller school might better suit her needs. She considered a wide range of programs, from the Ivy League to Division I to Division III, ultimately settling on Williams College in Williamstown, Massachusetts. A top-5 player in Virginia, she plans to focus on regional and national tournaments this summer to be in the best shape possible in the fall.
What were the primary factors in commitment to Williams?
The two biggest factors in my decision were academics and tennis. I wanted a school with top academics that would help me grow and position me for success later in life, and I wanted a tennis team that fit my skill level well, where I could contribute in the lineup.
What most impressed you during your visit?
I took my very first unofficial visit to Williams in the spring of my sophomore year! After that, I visited once more in my junior year and took an official visit after I committed in the fall of my senior year. During my unofficial visit I saw a team practice, went to meals with the girls, sat in on a few classes and went to the library. I was most impressed with how much time the team spent together and the effort the coaches put into developing the team and players.
What do you like about the coaching staff?
I really like how Coach [Alison] Swain and Coach [Chris] Wootton have a plan for each practice. Instead of going on court and making up drills as they go, there is a specific plan for each minute of practice time. I also really like how they care about their players not only as athletes, but as students and people as well.
What are your expectations for your freshman year?
I expect that adjusting to the academic demands of Williams will make the first year challenging, so I'm ready to work hard for the transition. In my freshman year I would love to play in the line up and contribute to the team's success.
Do you have a highlight from your junior tennis career?
The summer before my senior year I got the chance to go to Monte Carlo as part of the Junior Tennis Champions Center, representing the United States. We competed against teams from Argentina, France, Japan, South America and Spain. I had an amazing experience and was able to make friends from different countries while doing what I love.