Commitment Announcement
Spring Signing Week '17: Berdusco Decides on Pepperdine
by
Gary Curreri
, 12 April 2017
Bradenton's Brian Berdusco turned three difficult losses into a huge win.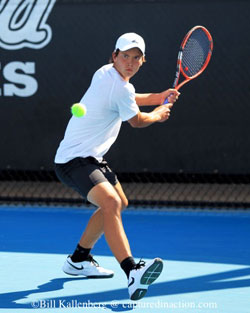 Berdusco played in the 2016 Winter Nationals and did not win one round - losing his first round singles match and then the consolation singles and also fell in the first round of doubles. He was ranked 150 for his class by TennisRecruiting.net and did some soul-searching.
"After that tournament I really reevaluated my tennis and made serious changes to my mindset that I brought to day-to-day practices and tournaments," said Berdusco, 18, a senior taking online classes at Laurel Springs School.
"I said to myself, 'I have a year and a half left until college - why not give every thing and see where you end up?" he said. "At the end of 2016 I was around 50 in my class with wins inside the Top 20 in the nation, ITF titles, and offers from top 20 colleges.
The win? Berdusco is headed to Pepperdine University in the fall. He said the attraction of being able to play outdoors all year long is a big advantage that most colleges can't offer.
"I chose Pepperdine firstly because of the two coaches," Berdusco said. "Marcello (Ferreira) and Martin (Parkes) are world-class coaches and guys. Both of them are really motivated - and will do anything to get Pepperdine back into the top 10.
"I believe the program is on the rise, and being part of that would be extra special - and the location is amazing," Berdusco continued. "But the thing that made me commit to Pepperdine was that I realized it's a perfect environment for me. I have two coaches who will motivate and push me - they believe in me and in the team, and they will do anything for us to reach our full potential."
Berdusco said colleges weren't really interested in him until the end of 2016 and the beginning of 2017.
"Getting to the level I am now happened pretty recently," he said. "That's why the college process was happening so late - because the coaches only recently got interested."
Pepperdine was among his top five choices. He also visited Michigan, UCF, Illinois, and Notre Dame.