Commitment Announcement
Spring Signing Week '17: Commodores Land Meyer
by
Colette Lewis
, 14 April 2017
Amanda Meyer wasn't sure tennis was the sport for her. The blue chip recruit took her first lesson to please her parents and until last year, playing at a top Division I school wasn't a certainty. But as her results improved and her confidence grew, the 17-year-old Floridian now marvels at what the sport has given her, including an opportunity to play and study at Vanderbilt University.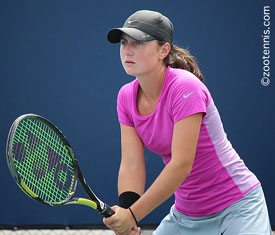 Meyer took three official visits, to
Michigan
,
Duke
and Vanderbilt, before casting her lot with head coach Geoff Macdonald and the Commodores.
"All three of them I really liked," Meyer said. "But Vanderbilt was the top."
The atmosphere at Vanderbilt, which has smallest enrollment of any Southeastern Conference school, appealed to Meyer, as did its academic reputation.
"Grades are important me," said Meyer, who attends Florida Virtual school and trains at the Evert Tennis Academy in Boca Raton. "I really wanted a school that balanced both of them - good academics and a good tennis program. A program where I was able to develop both mentally, physically, tenniswise, and be able to expand my horizons."
The commitment to broadening her experiences goes back many years. Born and raised in Kansas City, Meyer learned French at a young age and now hopes to pursue her love of science in a premed curriculum while minoring in that language.
"I went to French school from kindergarten until fourth grade, so I have a good foundation," Meyer said. "My parents just decided to put me in the school. I think they just wanted me to have an extra dimension."
John and Anita, her parents, also encouraged her to develop an interest in sports, and at age 7, she was introduced to tennis.
"My parents just wanted me to start playing something," Meyer said. "We went to a country club and saw a guy working with a little kid, playing tennis, and they were like, why don't you try it? I was too afraid to say no. To be honest, I didn't really want to, but I didn't want to make them feel bad, so I said yes."