Commitment Profile
Jimena Rodriguez-Benito Heads to Penn Early
by
Gary Curreri
, 16 May 2017
Blue Chip junior Jimena Rodriguez-Benito turns 17 in July, however she has already turned the page on her high school career.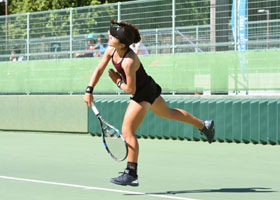 Rodriguez-Benito, who has taken classes through
Laurel Springs
for nearly three years, has decided to graduate early and commit to
Penn
- a year ahead of her graduation class.
Ranked 16th nationally and number one in the Southeast and in Florida, Rodriguez-Benito (Miami, Fla.) has been admitted to the Wharton School of Business.
"Committing to the University of Pennsylvania was probably the easiest decision I've made," she said. "From the beginning of my college search, attending UPenn at the Wharton Business School was my number one choice.
"Tennis has most certainly played a role in that decision because I think that the mentality of a successful business person is very similar to that of a successful athlete," Rodriguez-Benito said. "Quick decision making is a trait that both an athlete and a business woman need to possess in order to be successful."
Her top-5 colleges choices were UPenn, Stanford, Harvard, Columbia, and Brown. She never ended up visiting the other schools on her list because right as her college search started, she got a call from UPenn coach Sanela Kunovac offering her the opportunity to fast track through school and attend the Wharton Business School at the University of Pennsylvania a year early.
"It was not a hard decision to make seeing that UPenn was my top choice and dream school," Rodriguez-Benito said. "It was challenging to do my junior year and senior year during one academic year.