Special from
Zoo Tennis
Patrick Kypson is returning to Kalamazoo this year to seek a third singles title at the USTA National Championships, a rare accomplishment in the tournament's 75 years. Although back-to-back 18s titles are not uncommon, with both Donald Young and Jack Sock achieving that in the past dozen years, Kypson's 16s title, in 2015, gives him the opportunity to join Paul Goldstein as the only player since the 1940s to earn a trio of titles in Kalamazoo.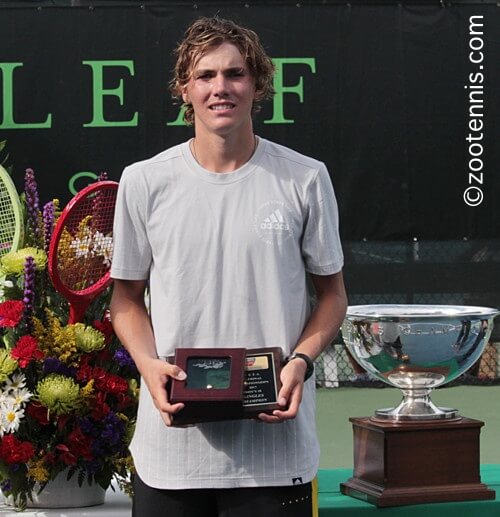 Defending Boys 18s Champion Patrick Kypson
©
Zoo Tennis
When Goldstein won three straight titles—16s in 1992 and 18s in 1993 and 1994—the draws consisted of 128 players. Now, for the second consecutive year, 224 players will compete at three sites in the Kalamazoo area, with the top 32 seeds receiving first-round byes.
The top-seeded Kypson, who at 687 has the highest ATP ranking in the field, played No. 1 for Texas A&M after joining the Aggies in January and finished the year ranked No. 7 in the ITA National rankings. The North Carolina native, who turns 19 in October, has his sights set on another U.S. Open main draw wild card after falling in the first round in New York last year.