Tournament Summary
Exceptional Ojai
by
Colette Lewis
, 9 May 2017
What makes The Ojai special? Ask that question of any Southern California tennis player, past or present, and you will get a variety of answers, all of which can be traced back to the tournament's 117-year history of hospitality.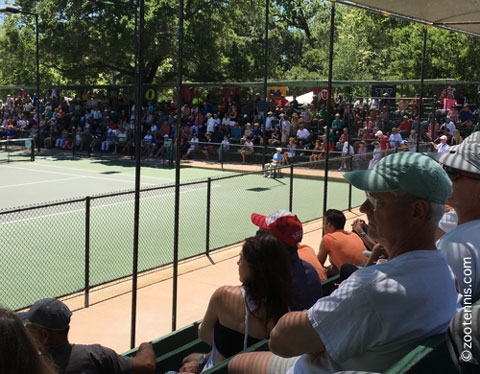 Begun by William Thacher in 1896, the tournament has gone from hosting men in white trousers playing with wooden racquets to raucous crowds of Pac-12 partisans without losing any of its charm or significance.
"It's evolved and developed over the years, and it's sort of self-sustaining," said Ojai Valley Tennis Club president Mike Borders, a resident of picturesque valley town two hours northwest of Los Angeles. "We keep the tradition; we try to make minor tweaks and improvements every year."
The range of tennis levels available during the event, which ends on the last Sunday in April, gives fans myriad options and players many opportunities to return year after year. In addition to the Pac-12 Conference team tournaments, with the women moving to that competition for the first time this year, there are events for juniors, community college and independent college players, professionals and Division III players, with more than 1250 players vying for one of the 26 championship trophies awarded during the weekend.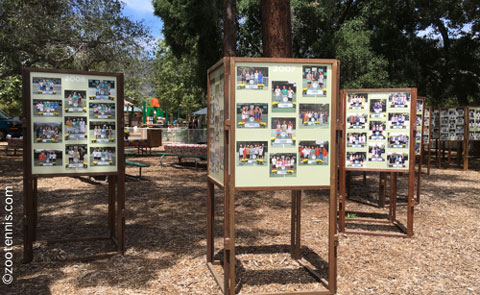 Photos of past finalists are out for people to see
©
Zoo Tennis
With less than 10,000 residents, Ojai makes up for a lack of hotel rooms for all these participants by welcoming them to private housing, and residents with tennis courts contribute by hosting tournament matches in the early days of the event.
"It's incredible," said Cali Jankowski, who won the girls 18s title this year as the top seed. "First rounds are always a little tough for me and I was a little nervous. So to come to a court where the vibe is very chill, everyone's relaxed, it was really nice to put those nerves aside, sit and take a breath."
The Arizona State recruit admits that Ojai was a factor in her commitment to a Pac-12 school.
"It was a major point in my decision," said Jankowski, who reached the finals of the Ojai's 14s division in 2014. "If I commit to Arizona State I can keep playing at the Ojai. I have a lot of family history with the school, I love Sheila [McInerney] and I love Matt [Langley], so it felt right. And to come back here, it's like home."
As a finalist, Jankowski already has her photograph on the famed boards at Libbey Park, where fans can spend hours spotting tennis greats back when they reached an Ojai final, including former slam champions Michael Chang, Pete Sampras, Tracy Austin and Lindsay Davenport.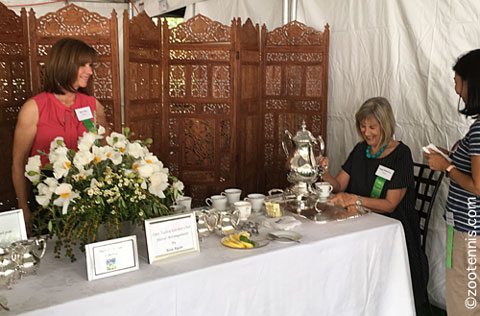 Refreshments - like the complimentary tea - make The Ojai special
©
Zoo Tennis
For Jake Sands, who won the CIF (Southern California high school) title this year, joining his father Howard on the photo boards was a dream come true.
"It means everything," said Sands, who saved a match point in his win over Stefan Dostanic. "Walking into Libbey Park, and seeing all the people on the boards, the pictures, I always wanted to be up there, on the winning side up there. It's one of the most prestigious tournaments, and I just love playing here. When you're driving around town, everyone's thinking about tennis, there are posters up, the whole town comes out to watch, and it just feels like the most fun tennis atmosphere."