Recruiting Profile
Epilepsy Doesn't Sideline Four-Star Gabby Dellacono
by Rhiannon Potkey, 5 October 2018
Gabby Dellacono walked onto the tennis court never knowing when or if the seizures may come. She tried not to worry, but the fear of a major episode always lingered in the back of her mind.
Dellacono was diagnosed with epilepsy at age 10. A neurological condition in which brain activity becomes abnormal, epilepsy can cause seizures or periods of unusual behavior, sensations and sometimes loss of awareness.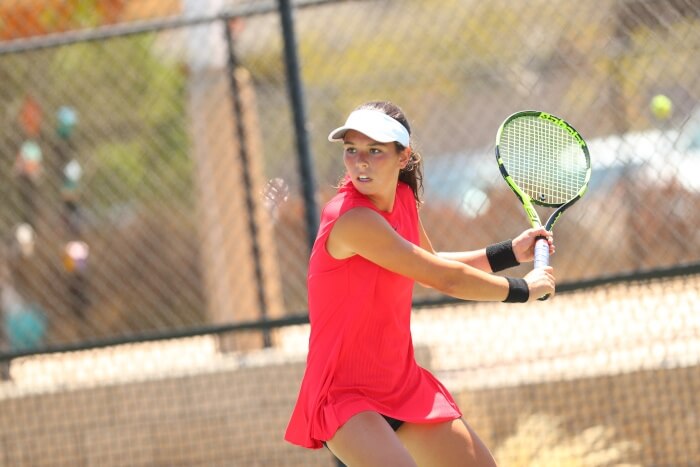 Four-Star Senior Gabby Dellacono Is Signing With Brown
Dellacono's family initially worried she may need to give up tennis, but her pediatric neurologist encouraged her to stay active. If you have a seizure, the doctor said, just get right back up and go after it again the next day.
"It was really hard dealing with some kids at school that gave me some trouble while still having to keep my grades up and play tennis. But it didn't change anything," Dellacono said. "I kept playing tennis and going to school every day. I didn't want anything to stop me from doing what I wanted to do."
Dellacono was put on medication to help alleviate the symptoms, and eventually grew out of the epilepsy. She hasn't had a seizure in three years.
The four-star senior from Stonington, Connecticut will be celebrating another big milestone next month when she signs her National Letter of Intent to play for Brown.
"It's my dream school and it's the perfect fit for me," Dellacono said. "It is close to home, which is nice because my parents are really supportive and they can watch me play more. They have been watching me since I was a little girl playing USTA matches and now they can share the journey in college with me."
Dellacono's parents supported her throughout her medical ordeal. She never experienced a major seizure during a tournament, but her mother always sat courtside wondering if she would have to run out on the court.
The side effects from the medication caused dizziness, and Dellacono often saw two balls while playing matches as she adjusted to the dosage.
"Gabby is so determined. Even if something happens on the court, she is not quitting. That is just the way she is," said her father, Frank, an otolaryngologist. "It's not easy because epilepsy's not an illness that can be hidden. When this happens, everybody can see it - teachers, students, friends. It's embarrassing to a young child, and they have enough to deal with in terms of self image. But Gabby is strong-willed, and I think she sees the world a little more maturely now."
Dellacono has used her platform as a tennis player to become an Athletes vs. Epilepsy Youth Ambassador.
Seeking a way to raise awareness about epilepsy and give back to others with the condition, she organized a tennis fundraiser last April that raised nearly $10,000 for the Epilepsy Foundation.
The fundraiser took nearly a year to organize, and Dellacono solicited the help of local businesses for sponsorships.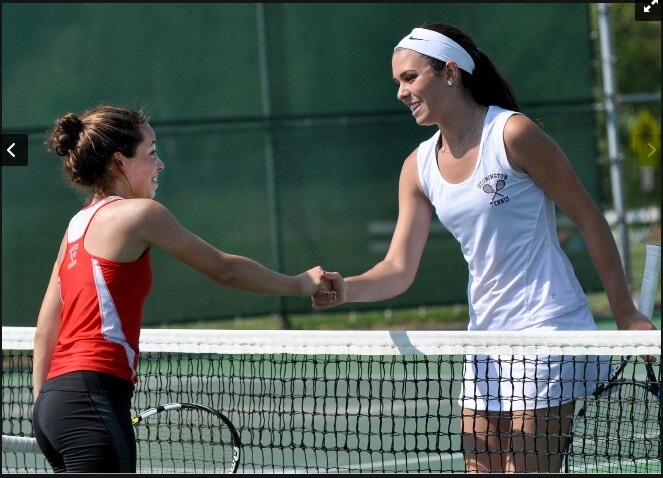 Dellacono is an Athletes vs. Epilepsy Youth Ambassador
The event was held at Mystic Indoor Sports, and included live music, a silent auction and a BBQ meal. Dellacono designed t-shirts to sell and played an exhibition match with her friends and coach.
One little boy named Henry wanted his picture taken with Dellacono. He had seen her in the local newspaper because of her high school tennis success.
"He struggles with the same problem and I knew he was coming. It was really emotional for me because I want him to know he is the reason I was doing this fundraiser," Dellacono said. "I want kids like him to not give up what they are doing and know that they can have a happy ending too. I just want to give him that hope."
Born and raised in Stonington, Dellacono was an active child, participating in basketball, soccer, field hockey, tennis, softball and lacrosse.
She discovered tennis when her father would take her to the courts after he played golf. He noticed she had a strong arm, and signed her up for lessons at Mystic Indoor.
Coach Jerry Albrikes immediately noticed Dellacono's athletic talent, and told her parents she might have a future in the sport.
Albrikes moved away from Connecticut for a period, and Dellacono had to travel to Massachusetts for lessons. But Albrikes recently returned to the club, and the partnership resumed.
"He has been a godsend for her as a coach because she really needed to have some stability with her coaching," Dellacono's mother, Laurel, said. "She has had a number of coaches in the mix that have been great for her. But having Jerry close by again has really been instrumental. She has really taken off in the last year that she has been with him again."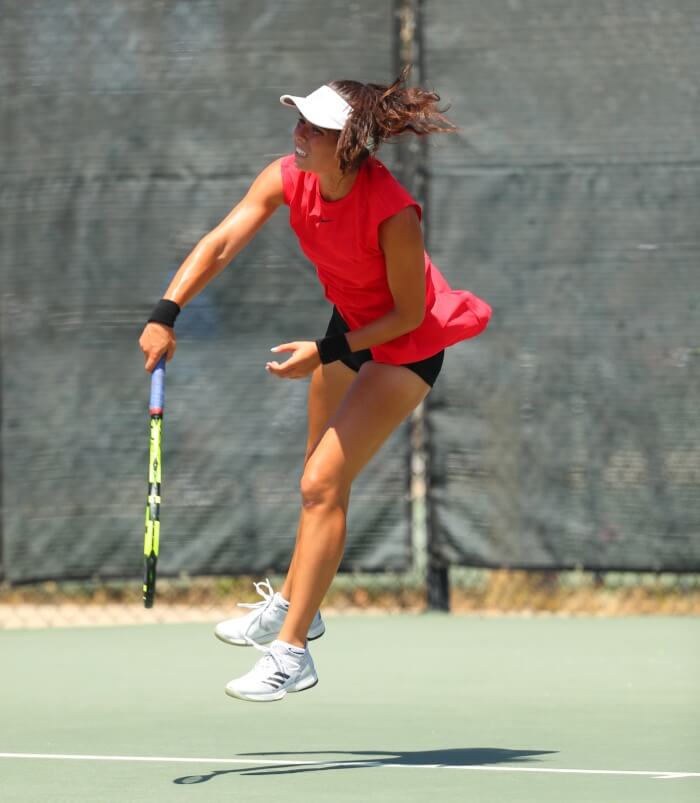 Dellacono Wants to Pursue a Career in Medicine
Dellacono, a state high school singles champion, takes academics seriously, and has a 4.2 GPA. "I am probably on PowerSchool more than on Snapchat," she said with a laugh. "I am always studying."
Dellacono wants to take the premed route at Brown and follow her father into the profession.
"I remember sitting in a chair and reading all the doctor books and going through his computer looking at the pictures of surgeries," Dellacono said. "I have always found it interesting and I love helping people."
Dellacono's compassion and perspective grew even more after she was diagnosed with epilepsy. She doesn't take any opportunity for granted, and is grateful to have college tennis as part of her future.
"I think what all this life experience has done for Gabby is made her such a great team player. She is very spirited, and people enjoy having her around," her father said. "Tennis is very important to Gabby, but she knows there are bigger things in life."
Leave a Comment
More Recruiting Profiles
15-Oct-2018
Dodd Heading West To Play For Sacramento State
Three-star Grace Dodd knew during her official visit she wanted to attend Sacramento State. The Farmers Branch, Texas native is a strong doubles player and hopes to contribute to the Hornets in any way needed.
10-Oct-2018
Five-Star Senior Spencer Gray Chooses Auburn
Believing it's a place where he can thrive, Spencer Gray has committed to Auburn. The five-star recruit from Boca Raton, Florida made his decision on Monday night after taking his official visit to the school in early September.
28-Sep-2018
Blue Chip Nanda Chooses Bruins
Motivated by a rejection when he began playing competitive tennis, Govind Nanda made a commitment to improving. That determination has now led to another commitment: the blue chip recruit is just months away from becoming a UCLA Bruin.
About Rhiannon Potkey
Rhiannon Potkey is a veteran sportswriter with more than two decades of experience in journalism. Potkey has covered many sports at many levels and has a passion for finding great stories. Potkey has covered the U.S. Open, junior sectional and national events, college conference championships and Davis Cup matches. Potkey is currently Content Strategist for Tennis Recruiting.