Special from
Zoo Tennis
Once Ireland's Georgia Drummy began to have success as a young teen in Tennis Europe events, she was faced with the difficult decision to leave her home and family in order to improve her tennis. In 2016, Drummy relocated to Florida, to live and train at the Evert Academy in Boca Raton, a move that not only provided her with the competition and coaching she needed, but led her to the next stage in her pursuit of a professional career—a scholarship to Vanderbilt University.
Another Evert student put Vanderbilt on Drummy's radar, with Amanda Meyer joining the Commodores last fall and working her way up to No. 4 in the lineup by the time Vanderbilt reached the NCAA team final this past spring.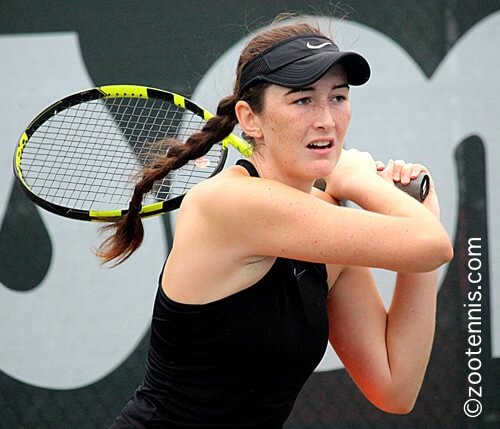 Ireland's Georgia Drummy Is Signing With Vanderbilt
©
Zoo Tennis
"I was looking for a school that had great academics as well as tennis, and Vanderbilt has both," said Drummy, who will graduate from high school this December and start at Vanderbilt in January. "Having known Amanda, getting the inside information [helped], and my coach, Mandy Wilson, was very friendly with [head coach] Geoff [Macdonald] and she knew how great of a coach he was."
Drummy took her visit in March and gave a verbal commitment to Macdonald in May, convinced that her game will improve under his guidance.
"I know that he can develop my game in the future and that's what I'm looking for," Drummy said. "When I went on my visit, I really enjoyed it; the team, everyone was so nice and the facilities were amazing. So I know that I can definitely improve my game, and academically I'll get a good degree."