Special from
Zoo Tennis
Sixteen-year-old Katie Volynets is making the transition from junior to pro tennis at the same time the International Tennis Federation is radically changing its pathway for young players seeking a professional career.
In light of those changes and in preparation for the ITF World Tennis Tour in 2019, Volynets played her last junior match at the U.S. Open Junior Championships in September, and after a first-round loss, began focusing on improving her WTA ranking at the USTA Pro Circuit events this fall.
She qualified for the $60,000 tournament in Stockton, near her home in Walnut Creek, California, then made the semifinals at the $25,000 tournament in Florence, South Carolina as a qualifier. This month, in her final two events of the year, Volynets made the quarterfinals of the $25,000 tournament in Lawrence, Kansas and the semifinals of the $25,000 tournament in Norman, Oklahoma, both after advancing through the qualifying draw. With her WTA ranking moving inside the Top 600 after playing just five Pro Circuit tournaments, Volynets is now in position to bypass the ITF's new transition stage, where many Top 100 ITF juniors will find themselves in 2019.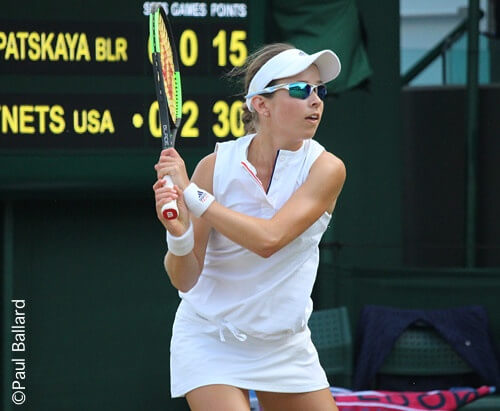 Katie Volynets is Transitioning from Junior to Pro Tennis
©
Paul Ballard
Volynets, who trains with USTA National Coach Alex Poorta and Mark Orwig of the Moraga Country Club, is taking a few weeks off before her preseason preparation begins at the USTA's National Campus at Lake Nona. I spoke with her by phone from her home in Northern California last week about many topics, including her best junior tennis memories, her recent success, her plans for 2019, her favorite pro and her favorite musical.
Colette Lewis: Are you done competing on the junior tennis circuit?
Katie Volynets: Probably not entirely. I'll play Hard Court Nationals next year and possibly one or two other tournaments, but for the most part, yeah, I'm done.
CL: What prompted you to move into Pro Circuit events?
KV: Because of the Transition Tour change next year, I knew it would be more difficult to get into the pro tournaments, so I decided to start, test where I stand on that level, get a better ranking, so I would have an easier time next year. I knew this time last year that I wanted to start playing professional tournaments, and the timing was just perfect, because in the fall there aren't that many junior things going on.