College Feature
Team USA Captures Master'U BNP Paribas Title
by Rhiannon Potkey, 4 December 2018
Before taking the court for their final match, the Americans were reminded of the heartbreak the team incurred just a year earlier.
Great Britain defeated the United States at the Master'U BNP Paribas International Collegiate Team Competition in 2017. Pepperdine junior Ashley Leahy and USC junior Brandon Holt were members of the team, and made a return trip to Grenoble, France for this year's event.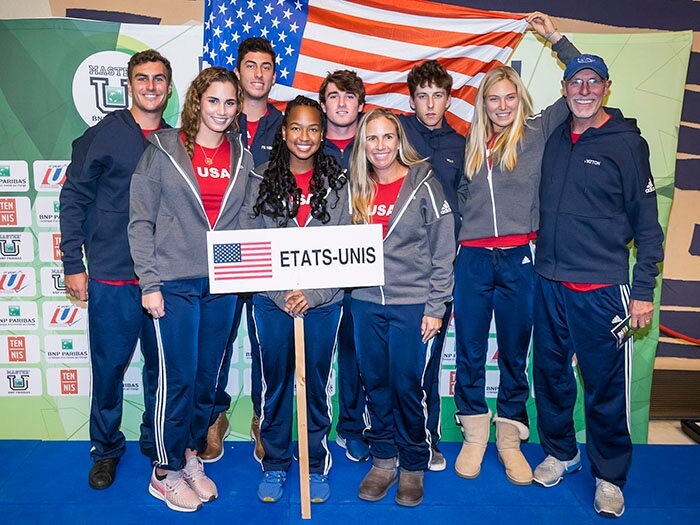 The U.S. Team Defeated Great Britain 4-1 in the Final
© Etienne Jeanneret
Faced against the same opponent, the U.S. exacted a measure of revenge.
The second-seeded Americans defeated top-seeded Great Britain 4-1 in the championship match on Sunday to capture their eighth title in the past 10 years.
"It was a pride thing. We were all very hungry and ready to win," said University of Florida sophomore Oliver Crawford on Monday night as he cleared customs to return home. "Any time you get to play for your country and put a USA T-shirt on, you want to do your best and represent your country well."
Crawford and Leahy each won three singles matches over three days to help the Americans return to the top of the event's standings despite several players struggling with illness. The U.S. defeated Belgium in the quarterfinals and Ireland in the semifinals by identical 6-1 scores.
In a closely-contested final, Lahey defeated Laura Sainsbury 6-4, 6-4, Holt rallied to beat Isaac Stoute 4-6, 6-1, 6-4 and Crawford held off Jack Findel-Hawkins 6-3, 6-7 (3), 7-6 (4).
The singles success set the stage for the clinching win by UCLA redshirt junior Jada Hart and Duke freshman Maria Mateas in women's doubles. The duo saved four match points in rallying for an 0-6, 7-6 (7), 1-0 (10-8) victory over Maia Lumsden and Sainsbury that set off a wild, hug-filled on-court celebration for the Americans.
"It was a relief for one just because we were in a very tight situation in our match. But it was just pure joy because we had become so close as a team and we really wanted to pull it out for everyone," Hart said. "Throughout the entire week, we were all supporting each other and making sure everyone had what they needed. It felt great to pull through."
UCLA's Jada Hart Played Doubles for Team USA
© Etienne Jeanneret
The U.S. team was coached by recently-retired Boise State head coach Greg Patton (nicknamed The Emperor by the team), Cal women's head coach Amanda Augustus and Cal Poly men's associate coach Garrett Patton. Rounding out the squad was Georgia senior Emil Reinberg.
"All I have to say is put on your sunglasses because the future of American tennis is radiantly bright," Greg Patton said. "The six players on our team are true examples that great people make great teams. Great teams create great players."
Although they wanted to win, the coaching staff wanted the players to appreciate the opportunity they had to travel to France and play for their country.
"Coach Patton and Amanda were awesome. They were just very good coaches and had very good spirits and made the trip very enjoyable and very fun," Crawford said. "Coach Patton's inspirational speeches and talks were great and something I will remember. He is someone that I will keep in touch with for a long time."
Participating in the event gave the players a chance to meet new people from their own team and from the seven opposing countries. Some of the U.S. players knew each other from junior tennis or college competitions, while others were meeting for the first time.
Past U.S. representatives in the Master'U competition include USC's Steve Johnson, Georgia Tech's Irina Falconi, Texas A&M's Austin Krajicek, UCLA's Mackenzie McDonald, Virginia's Danielle Collins and Georgia Tech's Chris Eubanks.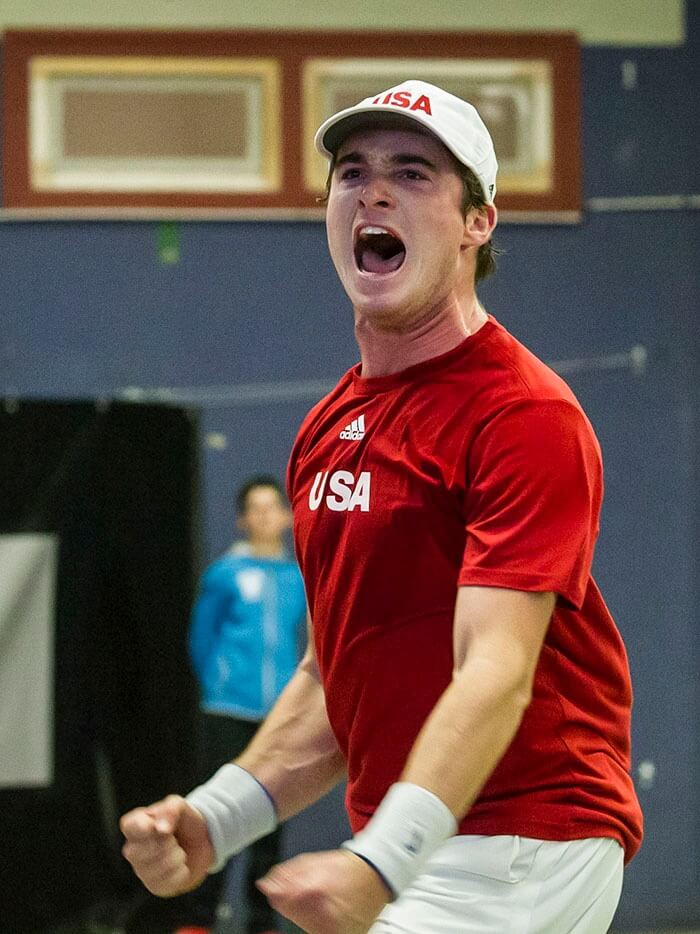 Florida's Oliver Crawford Went 3-0 in Singles
© Etienne Jeanneret
"Brandon texted me once I got the invitation and I told him I was definitely going. Any time you can play an event like this, you can't pass that opportunity up," Crawford sad. "I didn't even second guess it and just decided to go and had a great time. I have a lot great memories from throughout the week."
Because of the compressed schedule, the Americans didn't have time for sightseeing outside of walking around near their hotel. Once the championship match was over, they had to get back to school since most were taking exams before winter break.
Hart was hoping to get more souvenirs for her family, but was happy the U.S. came home with the biggest prize of all - the championship trophy.
"Representing your country first and foremost is the greatest honor you could ever have," Hart said. "Not many people have this opportunity and I wanted to make the most of it. I wanted to enjoy every minute with the team, and I think we all accomplished that."
About K-Swiss
College Content at TennisRecruiting.net is sponsored by K-Swiss.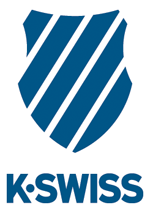 At K-Swiss we are 100% invested in the sport of Tennis and committed to helping players play their very best and win at every level. From a competitive junior or adult player to the greatest doubles team of all-time, Mike and Bob Bryan. For over 50 years we have been making some of the most innovative, high quality tennis footwear in the game featuring the very best in comfort with a consistent fit.
We encourage you to try the K-Swiss shoe that is best for your game.
Connect with K-Swiss on Facebook, Twitter, and YouTube - or on their website.
Leave a Comment
More College Coverage
10-Dec-2018
EMU Starts Rebuilding Process After Program Reinstated
The Eastern Michigan University women's tennis team is scrambling to find players and matches for the spring season after the program was reinstated two weeks ago following a lawsuit. Jayson Wiseman was re-hired as the head coach, providing a steady paycheck again for the father of nine.
3-Dec-2018
Brain Tumor Doesn't Keep Oberg From Playing at Portland
Days after signing his National Letter of Intent last year to play for the University of Portland, Nicklas Oberg received jarring news. Doctors found a tumor in his brain. The Texas native spent the next few months in a battle far greater than a tennis match.
27-Nov-2018
A Teacher at Hart: Get To Know Washington State's Coach
Washington State women's head coach Lisa Hart wanted to be an elementary school teacher. But after being offered an assistant coaching job at her alma mater, she fell in love with the profession. Hart combines both passions in guiding her programs.
About Rhiannon Potkey
Rhiannon Potkey is a veteran sportswriter with more than two decades of experience in journalism. Potkey has covered many sports at many levels and has a passion for finding great stories. Potkey has covered the U.S. Open, junior sectional and national events, college conference championships and Davis Cup matches. Potkey is currently Content Strategist for Tennis Recruiting.