Special Feature
USTA Debuts New Wild Card Linkage System for Americans
by Rhiannon Potkey, 4 January 2019
From the time it was first announced, the ITF World Tennis Tour has generated more questions than answers.
People aren't sure how it works. They aren't sure how it will affect professional tournaments and rankings. They aren't sure how it will impact the livelihood of players.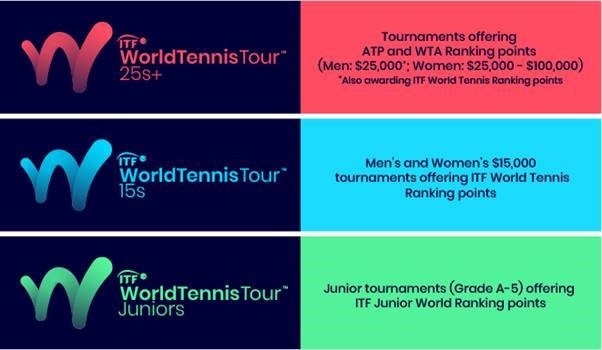 The New ITF World Tennis Tour Began This Week
© ITF
Some people aren't even sure about the proper name, with many still referring to it as the "Transition Tour."
Beginning this week, the World Tennis Tour was implemented by the ITF to "serve as a player pathway between the junior game and elite levels of professional tennis."
The ITF says it wants to enable more players to make a living by reducing the overall number of professional players, and increase the number of nations hosting ITF tournaments. The new worldwide tournament structure was agreed upon by the ITF, ATP and WTA.
Among the issues addressed in the changes, according to the ITF, were: too many players trying to compete on the professional circuit; too few players breaking even; longer playing careers at the top of the game; and the difficulty for many talented junior players in transitioning to professional tennis.
Players now use their ATP/WTA ranking followed by their ITF ranking for entries into events. There will be reserved places in higher-level tournaments for highly-ranked players on the ITF Junior World Ranking and ITF World Tennis Ranking.
All ATP and WTA Challengers now have full hospitality, and every World Tour event is seven days long.
USTA officials anticipated the confusion and uncertainty from the ITF changes, and tried to find a solution for American players that was within their control. To help provide American players with merit-based opportunities to play professional events, the USTA created the wild card linkage system.
The wild card linkages were designed to help four types of American players: high performance juniors, transition pros, college players and adult players. Up-and-coming players can earn wild cards into professional tournaments based on their success at various junior and collegiate events.
For example, more wild card opportunities will be granted at junior national events and Easter Bowl. College players can earn wild cards at NCAA championship events and various ITA events. (Click here for a full list).
At some events, the wild cards will expand beyond just the winners and finalists to include semifinalists and quarterfinalists.